the best food made on cape cod
Cape Cod is just as much a destination for foodies as it is for adventure-seekers and beachgoers. As much as you might come for 'lobstah' or fried clams, though, don't forget the iconic drinks and snacks that all originate right here on Cape Cod. Our list of the greatest food and drink products made on-site on Cape Cod also includes information about tours.
Cape Cod Chips Factory in Hyannis
On the 4th of July, 1980, two small business owners had a small storefront and a dream: their delicious and healthy Cape Cod potato chips would become a favorite all around the world. This dream quickly became a reality as Cape Cod Chips rocketed from a local favorite to a worldwide delicacy. Since then, the business has expanded with new flavors and types of crunchy snacks, even selling merchandise and offering tours.
Fun fact: the Cape Cod Chips logo depicts the Nauset Lighthouse, which is one of the most recognizable landmarks of Cape Cod. The first lighthouse station in Eastham, the present site of the Nauset Lighthouse, was completed in 1838. This lighthouse, and ones that would follow, were frequently moved to combat the encroaching shoreline.
Cape Cod Chips was founded on the dream of creating healthy snack foods with little processing. Unlike traditional potato chips, Cape Cod Chips are cooked in kettles, which leads to a healthier and crunchier chip. Although tours are presently on hold, the factory is anticipated to reopen summer 2023.
Cape Cod Coffee Roasters in Mashpee
There's nothing like waking up to a good cup of coffee. Not only is it a smooth and delicious treat, it sets the tone for the day ahead. Our guests love to start their mornings with Cape Cod Coffee alongside our gourmet breakfasts before biking the Cape Cod Rail Trail or hitting the beach.
Cape Cod Coffee sources only the best quality coffee beans from 12 countries around the world. Committed to sustainability, Cape Cod Coffee only sources beans that are grown without pesticides, and are Fair Trade & Rainforest Alliance certified. Pam and Jan Aggerbeck, the owners, dedicate themselves to personalized service and fantastic coffee that has kept guests hooked for over 50 years.
They offer tours and tastings on Tuesdays and Thursdays promptly at 11:00 a.m. – no appointment necessary – at the roasting facility at 10 Evergreen Circle in Mashpee. The Mashpee Commons location is open seven days a week, from 6:30 AM to 4:00 PM, EST. For more information, visit their website at this link.
Truro Vineyards in Truro
You'll find Truro Vineyards in- you guessed it, Truro- right between the Atlantic Ocean and Cape Cod Bay. If you visit Truro for the gorgeous beaches, don't forget to swing by for the premium wines!
Although Truro Vineyards was founded in 1992, the history of the main house and the land date back centuries. The building that is now the office and gift shop was originally the vineyard's Federal house, owned by John and Hannah Hughes. The land was made into a prosperous farm that sold grain, coal, and milk. The well-drained sandy soil also made it ideal for growing cantaloupes, and later, grapes. The rest is history.
Truro Vineyards is a family business, and it has been operated by the Roberts family since 2007. The owners describe themselves as 'hands on' owners who work in all areas of the business– and they're always excited to welcome new guests. Truro Vineyards is open for the season seven days per week. Check out their website for more details on events, and the food truck!
Devil's Purse Brewing Co in South Dennis
Devil's Purse Brewing Co is home of the Handline Kolsch, which was first brewed in Germany to rival the lager. Since 2015, Devil's Purse Brewing Co has been dedicated to perfecting the art of handcrafting beer. You'll find familiar American styles that have been deliciously influenced by their European cousins.
Tours and tastings are available during normal operating houses as well as retail. Devil's Purse Brewing Co does not ship beer, so visit South Dennis for delectable flavor combinations you won't find in a beer anywhere else. Their current hours are 12 to 6 PM from Wednesday to Sunday.
Cape Cod Salt water Taffy in South Yarmouth
The legend of saltwater taffy goes that a taffy salesman owned a small candy stand on the beach all the way back in 1883. One night, the ocean spray soaked his taffy! He discovered what had happened the following morning, and as he was planning to replace his stock, a child asked for a penny's worth of taffy.
"You mean salt water taffy?" he responded sardonically, but sold the taffy nonetheless. The child began eating the confection and showed delight in its taste. Surprised, the salesman tried one himself and found that the salt water had greatly enhanced the flavor of his taffy. And thus, a legend was born.
Today, Cape Cod Salt Water Taffy is one of the east coast's last authentic candy kitchens. When visiting, you can watch the candy makers working the 50-pound 'loaves' of taffy to create the authentic candy you know and love. In addition, when you visit, you have the opportunity to fill your own box with your favorite flavors from the rainbow display of over 30 types of salt water taffy.
Cape Cod Salt Water Taffy is open daily April through September.
---
The author works for The Platinum Pebble Boutique Inn located in West Harwich, Cape Cod. The Platinum Pebble Boutique Inn is Cape Cod's best boutique hotel and experience for travelers looking to live like a local. If you are interested in touring the Inn and planning your next Cape Cod vacation, click below to check out The Platinum Pebble Boutique Inn.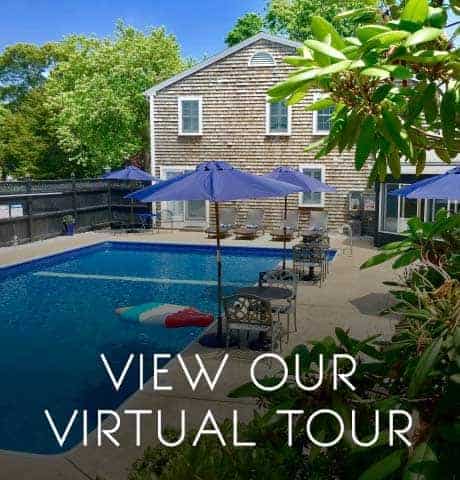 If this article was useful to you, please share with friends!
If you enjoyed this article, you might also enjoy some of these related guides:
No copyright infringement intended. Images are sourced in the description of each image.