Cape Cod luxury Inn
Experience Cape Cod in Clean, Inviting Luxury
The Platinum Pebble Boutique Inn is owned by Sharon Foster & Shawn Gilmore. They have brought their love for entertaining and personal travel experiences to this luxury boutique inn on Cape Cod … a place designed for travelers looking for an enhanced bucket list vacation, or a place to unwind and be pampered. Guided by the local owners, travelers can expect to see the Cape Cod most only dream about.
Or, hang by the sparkling pool all day. Walk to the beach. Walk to lunch, dinner, or ice cream….experience Cape Cod the way you want at the Platinum Pebble Boutique Inn.
While staying at this Cape Cod Luxury Inn, expect a gourmet breakfast each morning creatively designed by our in-house Chef. Please see our Foodies section below for some examples of breakfast, served with panache.
Foodies
What happens when you cross Foodies with Innkeepers? A Cape Cod vacation highlighted by a delicious start to your day, everyday!
People love food. We love people and we love food. Our Chef is our Innkeeper, our Innkeeper is also our Chef. Foodies delight!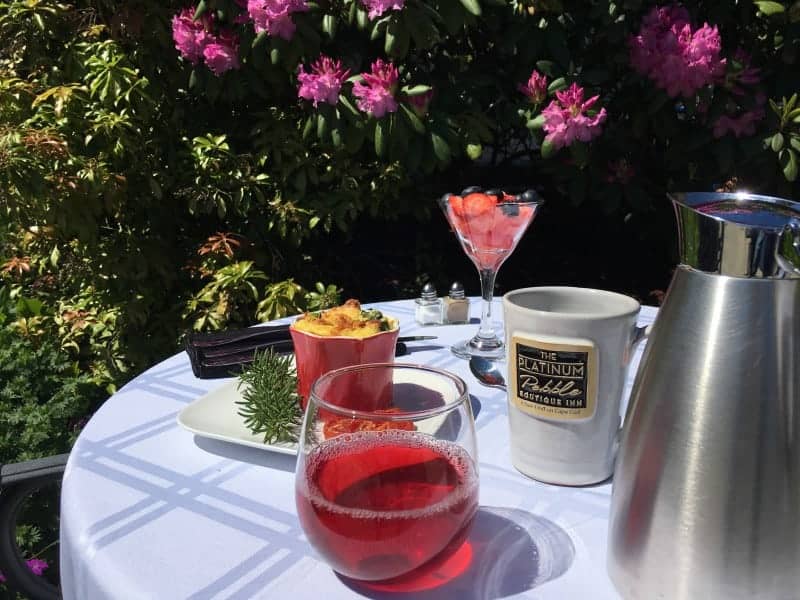 If you are headed to Cape Cod and love food, you have found the spot. The Chef of the Platinum Pebble Boutique Inn creates an innovative menu every day and Guests have the option of dining in the Lounge, Platinum Cafe, gardens, or poolside. Enjoy the sun on your face as you dine on Bananas Foster French Toast, Crisp Bacon, Strawberry & Watermelon Parfait with Homemade Greek Yogurt and Homemade Granola, Orange juice or Cranberry juice, and your choice of Mighty Leaf teas or Cape Cod Roasters coffee (sample Sweet menu). The next day is a Savory menu, so expect to be treated with a main dish like Bacon Wrapped Asparagus, toasted Country Bread (sometime's it's even Sharon's freshly baked Sour Dough Bread!) with a Poached Egg, Shawn's Slightly Spicy Home Fries, and a Breakfast Banana Split. As much of our menu as possible is from our gardens for herbs & veggies, honey from our bees and eggs from our chickens as well as sourced locally to support the great businesses that make up Cape Cod.
When Foodies run an Inn you know breakfast will be a sin.