How to Max Out Your Bucket List Vacation
Cape Cod in 3 days? It can be done and done well. You're on a bucket list trip and this is one of the most amazing spots on Earth! Choose your own adventure and see where it takes you, here are 15 epic ideas to max out your Cape Cod getaway.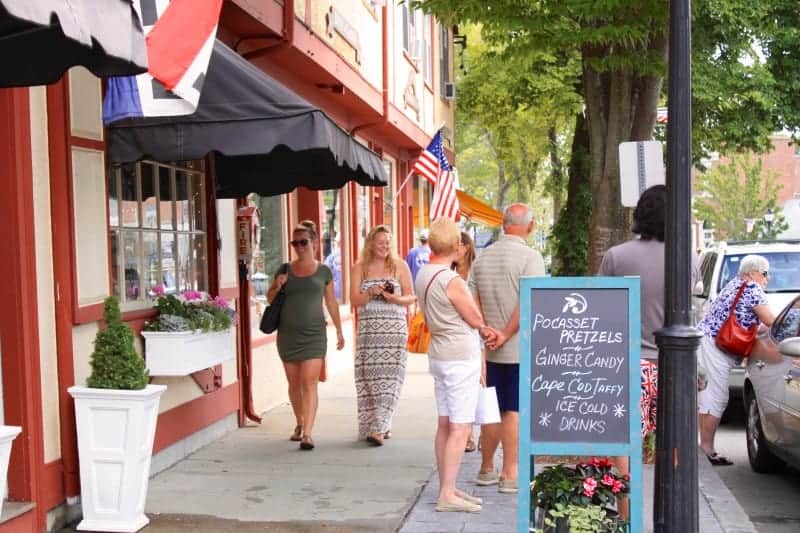 Day 1 | Be a Local
We own a luxury, boutique hotel on Cape Cod, the Platinum Pebble Boutique Inn. Years of exploring the best of what Cape Cod has to offer brings you this travel guide for an epic 3 days you'll never forget. We hope you will take advantage of one of our specials or packages and make this your home base for your bucket list vacation. No matter where you stay; you will find warm, welcoming locals, a casual Cape Cod beach vibe, and incredibly fresh seafood!
Beach Bar and Ice Cream?! Yes, Please.
The Platinum Pebble Boutique Inn is in the Lower Cape so, that is where we will start our 3 day journey. Check-in to the Inn, get settled with a welcoming drink, store your luggage, and it is time to explore the area and be a local for awhile. This area of the Lower Cape, between Dennisport and Harwich Port, is classic Cape Cod. As you walk to the beach down the street, you pass cute little Cape Cod cottages with shingles and white picket fences. The street runs right into the beach where you can spend some quiet time (it is less popular than some of the other local beaches so no parking fees and less people!) or visit the Ocean House Beach Bar right down the street (open for the summer season). As you curve North on the same street you took South to the beach you pass Sundae School Ice Cream's flagship location. It is definitely worth a stop to enjoy some of Cape Cod's best Ice Cream. A summertime Cape Cod getaway is not the same without Sundae School.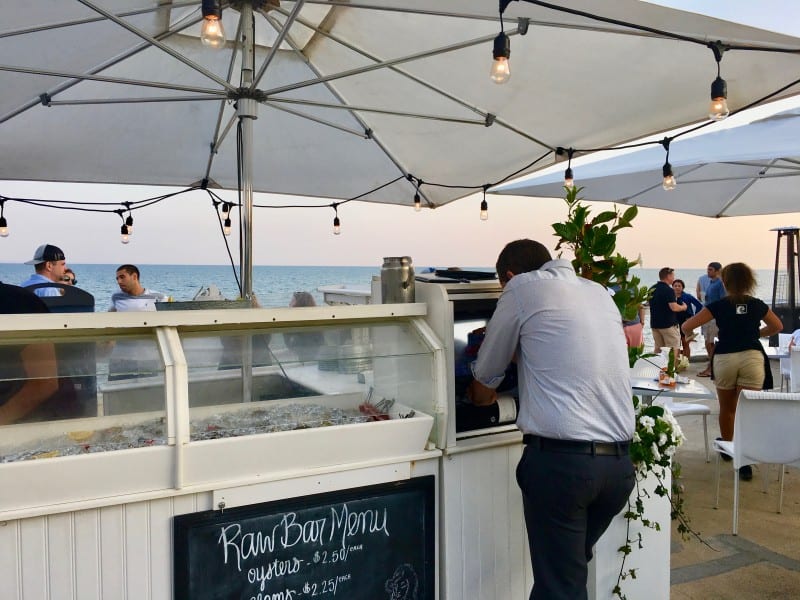 As you move further North, about an 11 minute walk from Sundae School is the Oyster Company. If you love Raw Bar, this is the spot! They have an Oyster Farm on the Cape Cod Bay that supplies fresh oysters, daily. The Oyster Company is at the end of Dennisport's Main street and if boutique shops strike you as a bit more authentic than the corporate franchises, you will love taking a stroll! One of our favorite artist shops is Faces, they do great art out of reclaimed driftwood. Also, if you like bakeries…which is how we travel, from bakery to bakery…be sure to love on Cake & Islands and Buckie's Bakeries.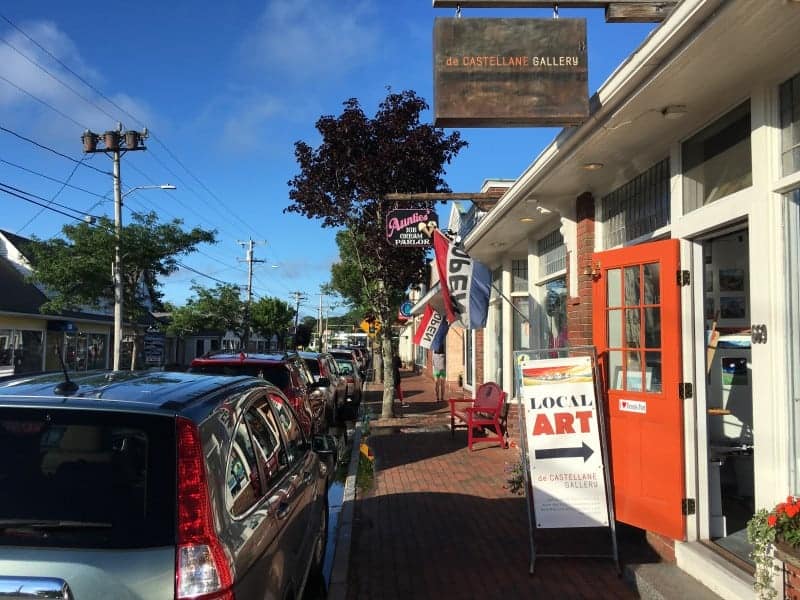 If you want to keep it close to home base tonight, you will walk right by one of the local's favorite restaurants, The Den, on the way back to the Platinum Pebble Boutique Inn. They serve traditional pub fare along with asian inspired dishes as well as gluten free and vegetarian fare. Dine inside or out.
This walk around the neighborhood is about one hour total plus stops. Or, borrow one of the Platinum Pebble's complimentary bikes and make it in only fourteen minutes.
Click to experience the Boutique Hotel.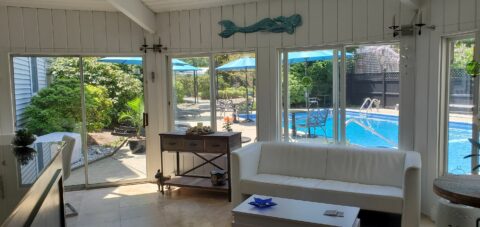 Download your FREE Cape Cod travel guide!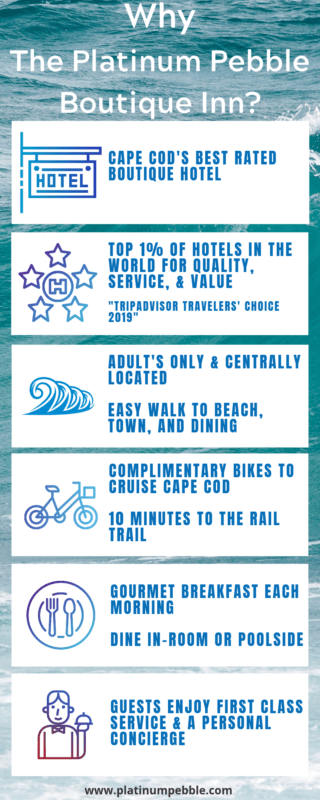 Dinner and a Music Festival? It Depends.
Another great option for dinner is also Harwich Port, a 5 minute drive from the Platinum Pebble Boutique Inn. Coastal Magazine named Harwich Port #2 Happiest Seaside Town and it shows. This is another classic Cape Cod night; walking around town, maybe down to the beach to watch the sunset, and then to a memorable dinner. If it is Wednesday night in July or August, you are in luck! Harwich Port Summer Nights has been building over the past several years as a wicked cool musical festival. Bands line the streets, there is a great energy, and people are out in droves enjoying what Cape Cod is all about.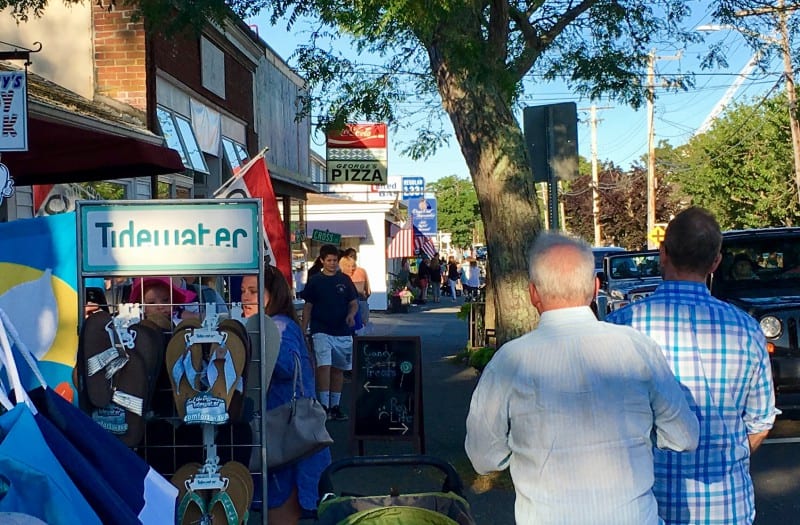 Main Street Harwich Port has some of the best boutique shops on Cape Cod and is one of the 5 best Main Streets for shopping. Some noteworthy shops/galleries are The Grey House for upscale retail, Nines Art Gallery for amazing, realistic waterscape and glass paintings, Murphy's General Store is a great place to stop and check out. It makes you feel like a kid again when you walk in and see that they carry everything from books, puzzles, toys, games, vintage vinyl, old timey sodas and candy. Click here for more great shops and retail on Main Street Harwich Port.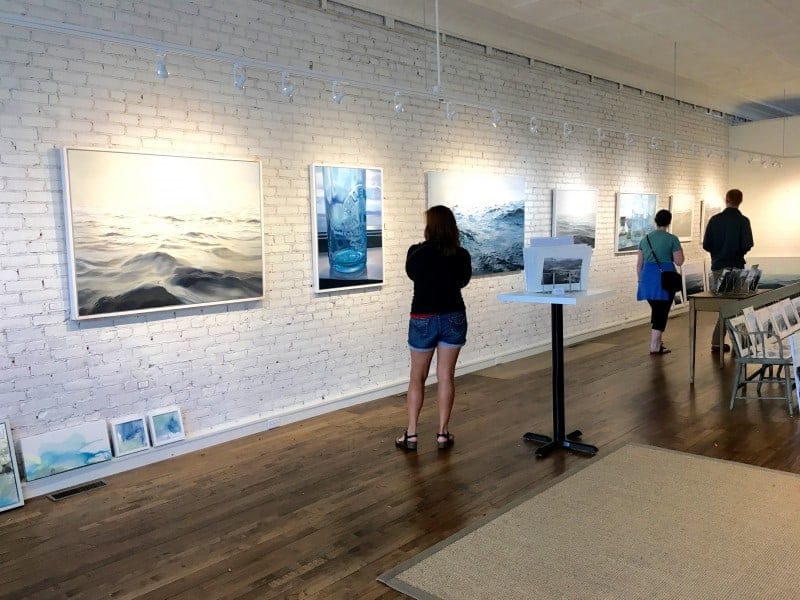 Three of our favorite restaurants in Harwich Port give you all the choice you could need. The Mad Minnow is where to go if you are looking for something casual but, extraordinary. They are in a light, open space at the back end of Three Monkeys building with an outdoor beer garden. Three Monkeys is the go to spot on the Lower Cape for fresh sushi. If your first night on Cape Cod calls for something special, let our Concierge book you a reservation at Cape Sea Grille. The restaurant is a short walk half way between Main Street and Sea Street Beach; you can't find a better stroll (and meal) on a cool, Cape Cod night.
Day 2 | Choose Your Own Adventure
What does your bucket list vacation look like? Do you want to relax or do you want adventure? We will give you options for both, and both options are simply incredible. Today is a great day to explore and enjoy more of the Lower Cape and parts of the Outer Cape.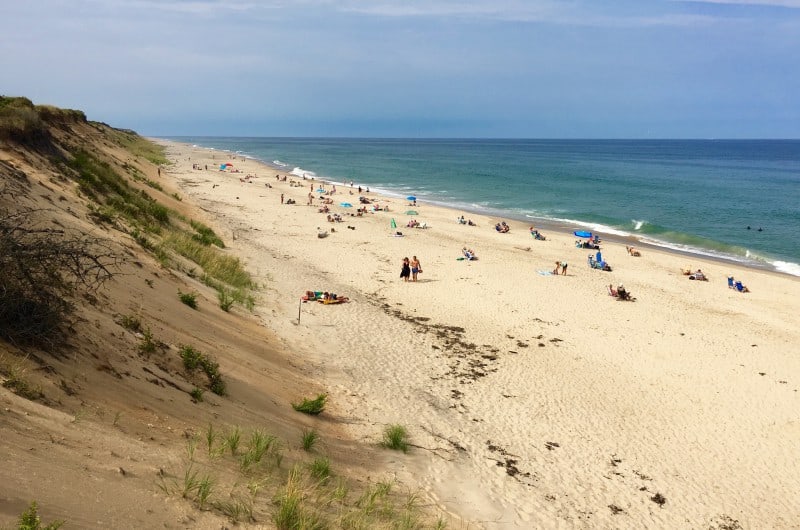 A Relaxing Cape Cod Getaway
For a relaxing Cape Cod getaway, simply cruise about twenty minutes to the elbow of the Cape to the quintessential Cape Cod town of Chatham. Main street offers more unique boutique shops and galleries, one of the freshest seafood shacks sits on the Chatham Pier, and you can walk right up to one of the more infamous lighthouses on the East Coast.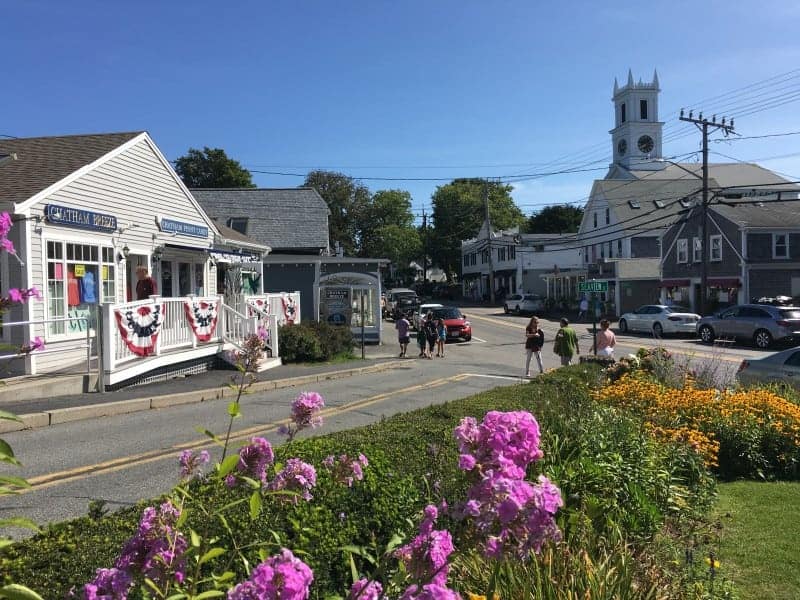 After a foodie breakfast at the Platinum Pebble Boutique Inn; grab beach chairs, umbrellas, beach tents and towels supplied by the Inn and get ready to experience some of the best of what the Cape has to offer. For a relaxing summer getaway on Cape Cod, you can't beat the feel of Chatham. Parking is free all over town but it fills in quickly. Our top spots for finding that elusive spot are: behind the Orpheum Theater as you pass through the rotary, next to Chatham Town Hall, or you may luck out and grab a spot right on the street. Traffic is heavy in Chatham but it also flows quickly. People come and go constantly, if you're patient you won't wait long.
Chatham
Shoppers are in luck with lots of great options! Black Dog, Puritan Cape Cod, Beach Bum Surf Company, and Mahi Gold offer awesome retail shopping. Two ice cream shops, a pizza shop, and the local pub The Chatham Squire (try their 1/2 clam chowder 1/2 lobster bisque…out of this world!) all offer casual lunch but, for one of the freshest seafood shacks on Cape Cod head to the Chatham Pier and the Chatham Pier Fish Market. There is free parking but, be patient. It is all outdoor dining, right on the water…and very casual. Watch the boats come in loaded down with fresh dogfish, lobster, whatever you plan on eating tonight you will probably see here.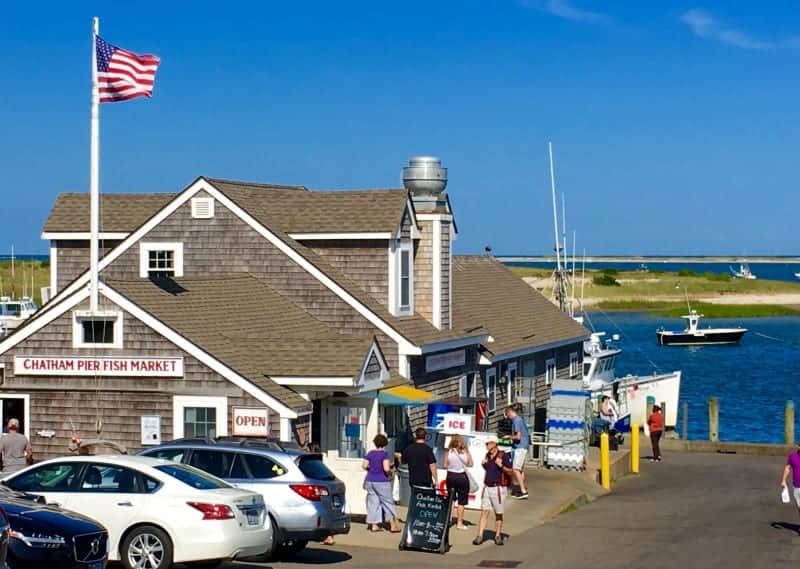 Right down the street from the Chatham Pier stands the Chatham Lighthouse, best known as the launching point of the rescue crew in the Hollywood Blockbuster "The Finest Hour". History surrounds you on Cape Cod, you just have to know what you are seeing. If you have not seen the movie, it is an amazing story of heroism from members of the US Coast Guard. You can park for half an hour for free in front of the lighthouse and you can always find parking as people come and go frequently. But, if you want to enjoy Chatham's Lighthouse Beach for more than half an hour you will need to consider a walk from town. It is about a mile from parking at Chatham's Town Hall.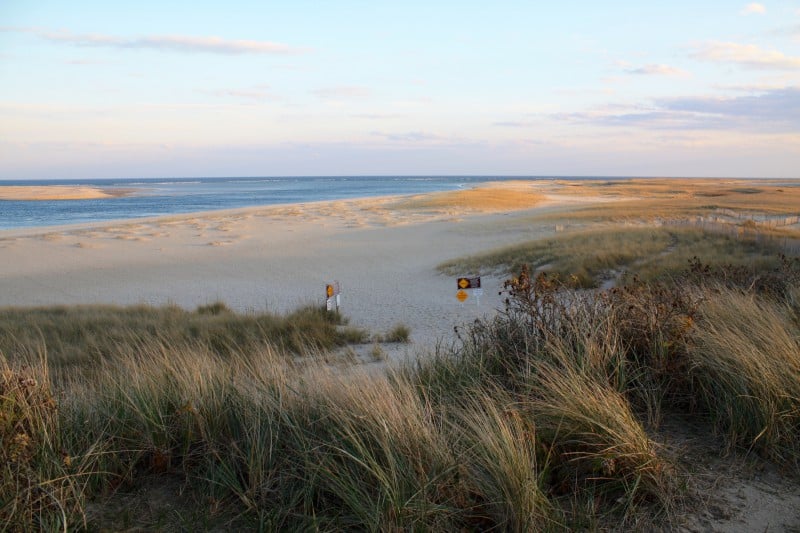 The OUter Cape
Either as a day of its own or a continuation of your day in Chatham, the Outer Cape is an incredible place. Most of it falls inside the protected Cape Cod National Seashore and this is authentic Cape Cod. The Pilgrims walked here, Pirates have walked here, and the beginning of today's America began here. Visitors come to see endless, spectacular beaches, rising dunes, clam shacks, lighthouses, and a slower pace of life. Locals come for the same.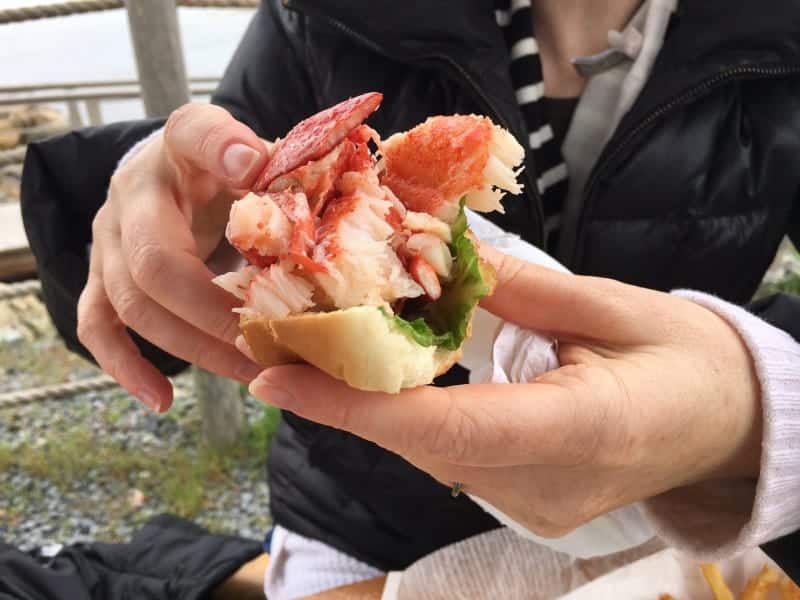 As you travel north towards the Outer Cape there is a great stop if you like chocolate. The Hot Chocolate Sparrow in Orleans is high on our guest's list of favorites, especially if you are here during the cooler months. They are also right off the Cape Cod Rail Trail so, if you have chosen a day of adventure (below)…this could be an option!
Depending on the time of year, there are several great beaches to stop and enjoy. Coast Guard Beach in Eastham consistently ranks at the top of US beaches but, once peak season hits (July and August) parking becomes a chore with offsite parking and shuttles. If timing doesn't work out, try Nauset Light Beach which is just north of Coast Guard Beach and has the iconic Nauset Lighthouse as its backdrop. Parking can fill quickly at Nauset Light Beach if you aren't there early or later in the afternoon. Marconi Beach is another favorite a short drive north from Nauset Light Beach. Plenty of parking, giant dunes facing the ocean, and lots of room to spread out define this world class beach.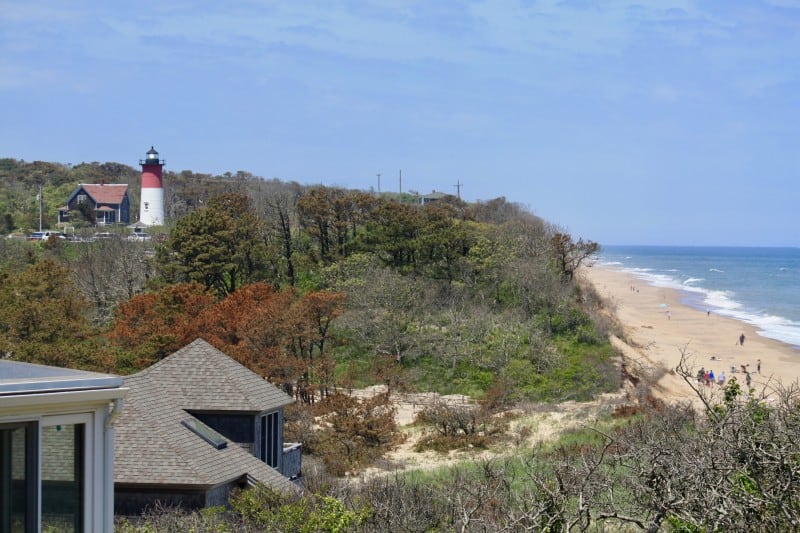 Day 2 Dinner Choices
Where to begin! You are on the Outer Cape where another of the best seafood shacks on Cape Cod resides. If you want to keep it casual for dinner on day 2 of your Cape Cod getaway, we highly recommend a stop at Mac's on the Pier (specifically on the Pier, there are other locations). Dine on fresh lobster rolls, raw bar, and clam strips at this waterfront spot overlooking Wellfleet Harbor.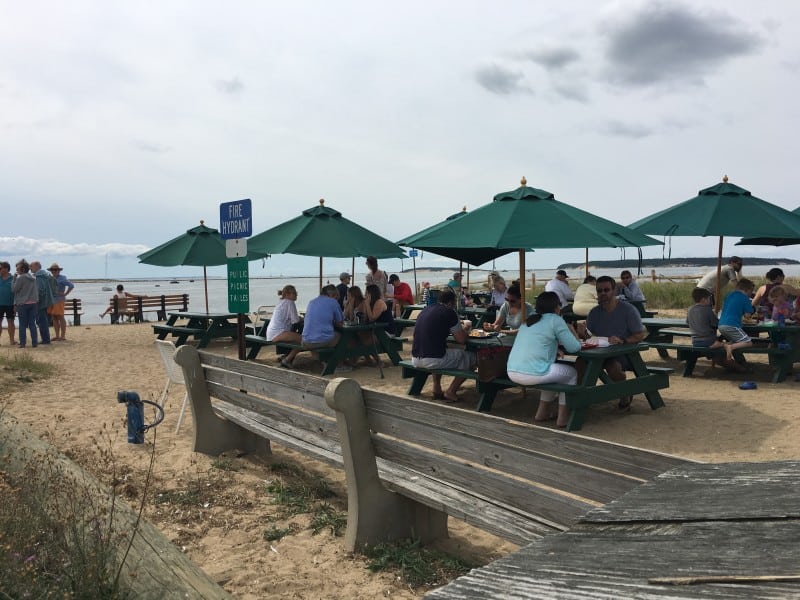 A great foodie stop on the way back to Harwich and the Platinum Pebble Boutique Inn is the Rock Harbor Grill in Orleans. Pretzel rolls with honey butter to start and an innovative menu bring us back again and again. This is also a great stop for dinner Day 3, half way back returning from Provincetown! (below)
Most guests end up back at the Platinum Pebble Boutique Inn in the early afternoon to enjoy the enticing pool and afternoon refreshments. If you choose to end your day a little early and come back to enjoy Harwich, one of Cape Cod's best restaurants is right down the street. Day 1 you may have spent some time at the Ocean House Beach Bar. Their more formal dining component is the Ocean House restaurant and you can't find a better meal with bigger views over the Nantucket Sound. This is the spot and it stays busy. If you will be a guest of the Platinum Pebble this season and would like reservations, please let the Concierge know as soon as possible and they would be happy to make it happen.
Click to see Guest Rooms.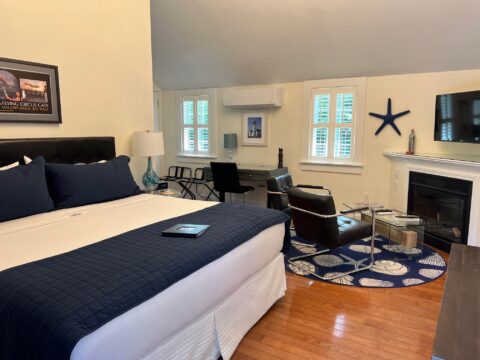 An Adventure Day
For the adventurer we have a lot of options! This is nature's playground, let's make your Cape Cod getaway an especially memorable trip. Combine some of the below options to truly blow your mate's mind if this is a romantic getaway.
BIke the Cape Cod Rail Trail
What a day! See everything that makes Cape Cod great and do it under your own pedal power. Stop when and where you want, avoid traffic and parking, and see the real Cape Cod via the Cape Cod Rail Trail. This artery stretches the distance from Yarmouth's new extension west of the Platinum Pebble to Chatham, or even all the way up into the Outer Cape in Wellfleet! Feel free to borrow the Inn's complimentary bikes and ride a few minutes north through the Bell's Neck Nature Preserve to link up with the trail. Once here you have access to it all…what do you want to see? Both options start east of the Inn at the bike rotary. Pedal there and decide if today is a town or a beach day, if it will be a day of nature or wandering town and all its wonders (see Chatham above). If you chose Chatham, go right at the rotary to get started. Along the way the trail will bring you by Old Schoolhouse Ice Cream, Hanger B Eatery (inside the Chatham Municipal Airport), and White's Pond for swimming. Chatham is roughly a 12 mile ride from the Platinum Pebble.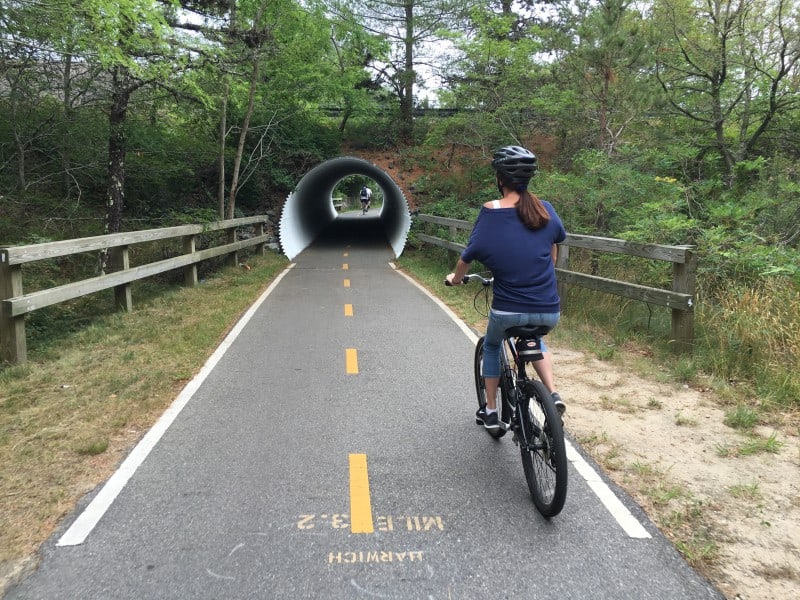 If a day of nature calls to you, then saddle up, you've got some riding to do! Actually it is the same distance to Nickerson State Park as it is to Chatham (12 miles). Local stops along the way include the Pleasant Lake General Store and the Local Flavor (inside) if you want provisions or even a to go sandwich. There are no billboards on the Cape Cod Rail Trail so pay attention to the little signs that mark great lunch stops just off the path. Places like JTs Seafood Shack for warm lobster rolls, or Cobie's Seafood Shack. Just past Cobie's is the entrance to Nickerson State Park and an extension of the bike trail runs through nearly the entire park. Our suggestion is to go deepest into the park to Cliff Pond. It is heaven on Earth and remote enough that you can always find your own private spot on its sandy shores.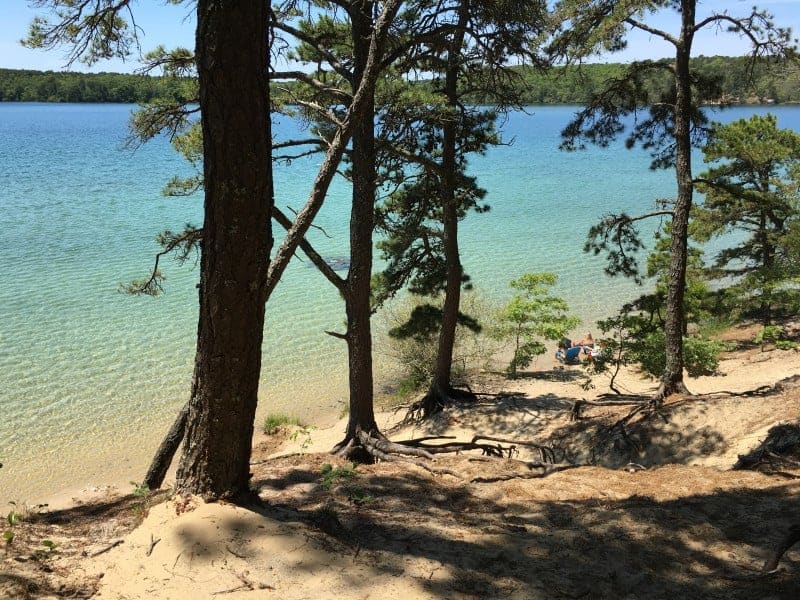 If you continue past Nickerson State Park you will pass right by the Hot Chocolate Sparrow in Orleans (above) and can easily ride to Coast Guard Beach. It is one of America's top-rated beaches and biking there bypasses the arduous parking situation during peak times. Keep an eye out for the extension from the Cape Cod Rail Trail that will take you to Coast Guard Beach. It is marked well and you will follow it to cross Route 6 at the light. Just past the light is the Salt Pond Visitor's Center, and the bike path continues at a slight downhill all the way to the beach. This is a great ride through the trees with a few hills and a little bit of speed. Riding back uphill, not as much.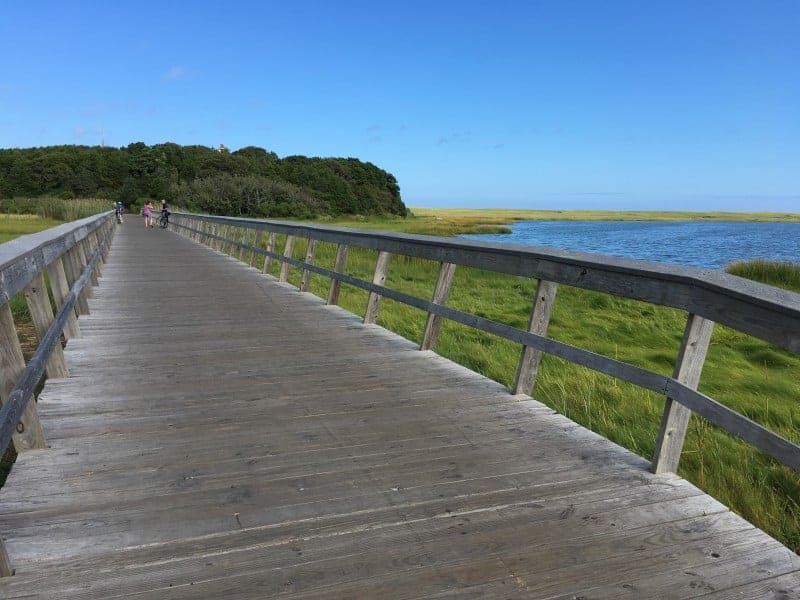 For dinner on Day 2 after a day of biking, it's nice that you can keep it close to home base and walk to eat. We highly recommend the Oyster Company for casual seafood. It is a great atmosphere with awesome people that treat you right. For something a little more casual you could relax at the Red Nun on Main Street Dennisport and enjoy a drink and a better than average bar menu..it's actually impressive!
Live Like a Local
If you are interested in seeing parts of Cape Cod that most don't, consider a guided tour. The Concierge at the Platinum Pebble Boutique Inn has hand selected the local partners that we work with based on first hand experience. They are local, they are good people, and they know the history and the nature that surrounds the Cape extremely well. Truly enjoy kayaking or even Stand Up Paddleboarding the back waterways and ever changing coasts of Cape Cod. The guides work with the tides so your trip is not as strenuous as it could be.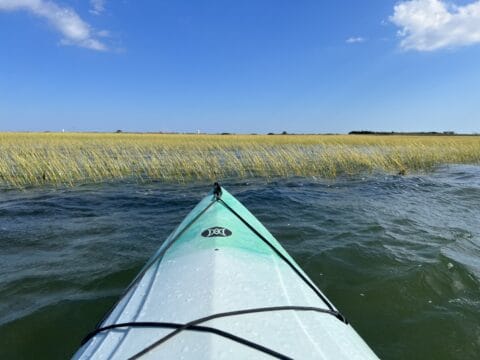 A positively terrifying and unique experience puts you out on the water with the men in grey suits. The seal population has exploded on Cape Cod and Great White Sharks have followed. We have partnered with a veteran captain of the waters off Chatham for a fascinating look at an apex predator in its natural environment. If you are looking for a shark tour…we can help!
Day 3 | To Provincetown and Back
P'town, as its known locally, is at the tip of the Cape and a world all its own! You will love the color, the people, and the energy of a day spent in and around Provincetown. Another of Cape Cod's best Main Streets; P'town is known as a foodie haven, artist enclave, and about as freewheeling as you can get on the East Coast.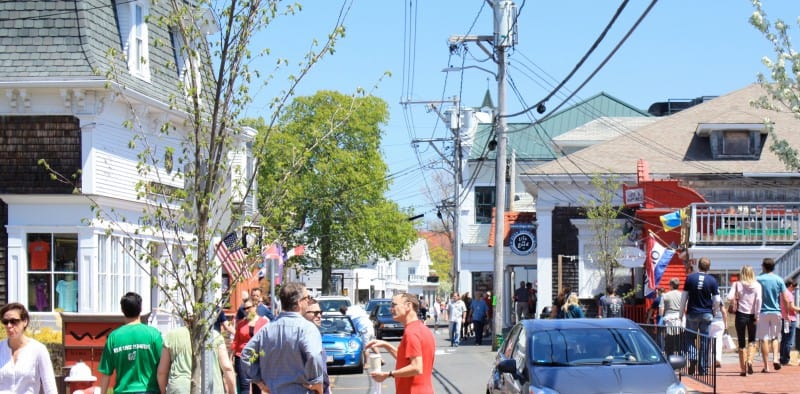 A relaxing Day
Enjoy a leisurely drive through the Outer Cape today on the way to Provincetown. If you are on Cape Cod to see lighthouses, we have you covered. Giant, rolling sand dunes…covered. Big views, also covered. This is a day defined by spectacular sights and endless views.
As you drive up Route 6 you will pass 2 lighthouses, Nauset Lighthouse at Nauset Light Beach in Eastham and Highland Lighthouse in Truro. Highland Light does tours on a regular schedule throughout most of the year and is a fascinating peek inside a lighthouse and the mind of a lighthouse keeper on a rough and stormy night.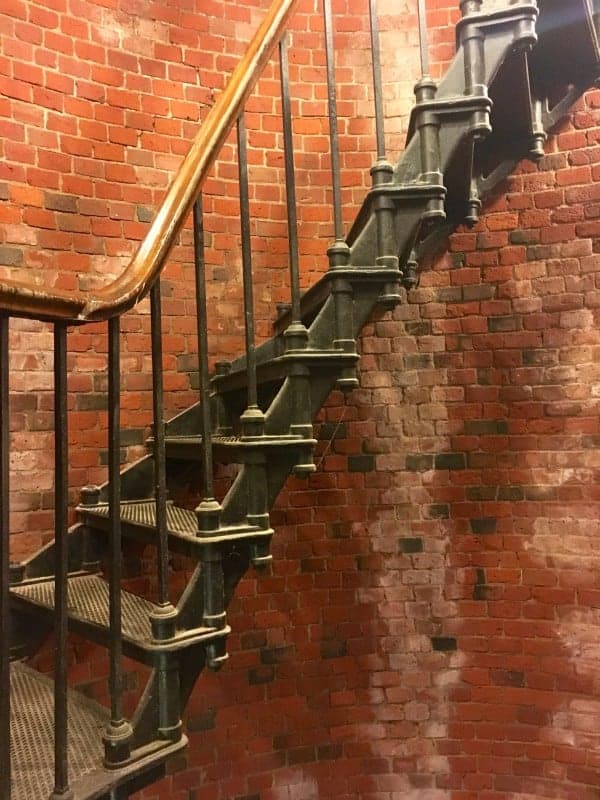 While in Truro, the Truro Vineyards makes for a fun stop if you want to see the wine that you're drinking grow from under your feet. During the summer season they have a food truck parked on premises (not your average food truck!), private tastings, tours and so many events – be sure to check their website for all the offerings. Tastings of both wine and spirits are available, and if you like what you taste, they have a gift shop and also sell their wine and spirits. We strongly suggest reservations during July and August!!!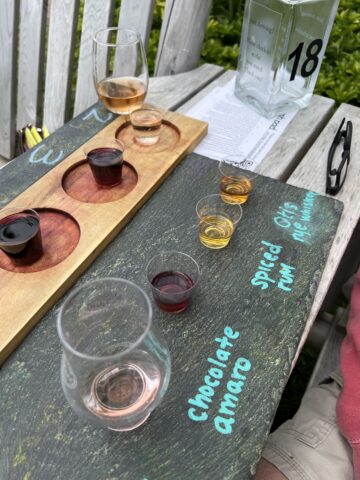 Once you have reached Provincetown, head to the Pilgrim Monument and Museum. It is easy to spot as it is the tallest structure around. The local's secret is this: this is where you want to park if parking is tight. Pay the entrance fee for the museum and you are able to park here all day, just one block off Commercial Street (Provincetown's Main Street). For the absolute best view on Cape Cod, it is worth the climb to the top. See the whole Cape stretched out to Plymouth and Boston (on an exceptionally clear day).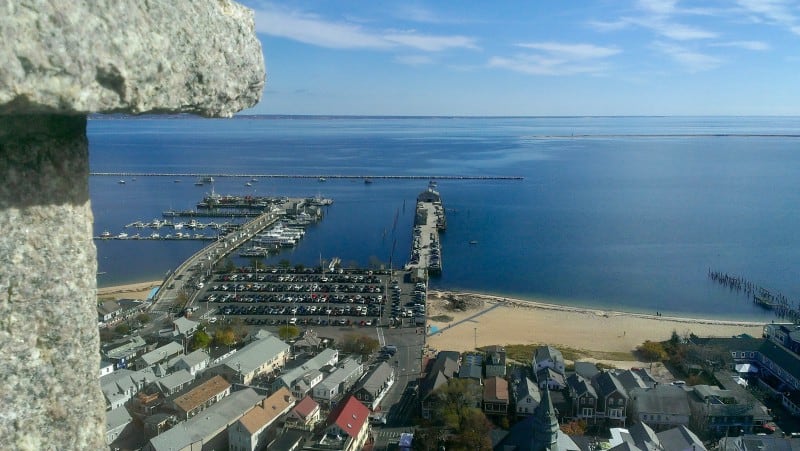 If you look around Provincetown from the top of the Pilgrim Monument you can see one of three additional lighthouses that surround the tip of the Cape. Long Point Light sits out at the end of a point in Provincetown's Harbor. There is also Wood End Light (walkable, see below) and Race Point Light. You can see Race Point Light from a distance at Herring Cove Beach or Art's Dune Tours will drive you there in air-conditioned comfort, off road!
Provincetown has long been known as a foodie haven and has produced chefs with world acclaim (Anthony Bourdain, Michele Ragussis). The food here is AMAZING. From casual Kung Fu Dumpling, the Portuguese Bakery, and a favorite, The Canteen to fine dining at places like Mews, Mac's Fish House, and The Red Inn…you too will find P'town's foodie scene, thriving.
For beach time, head to Race Point Beach. There is a marine sanctuary north of here where multiples species of whales come to breed. If you catch the timing right, April and October, you can see whales right off the coast. This beach is another spectacular beach that feels untouched. There is plenty of room to spread out and you can feel like you have the place to yourself, at times.
An adventure Day
If you are an adventurer, or just want to feel like one for a day, there are plenty of opportunities to enjoy around Provincetown. Cape Cod is known for world class Whale Watching and it mostly happens north of P'town at the Stellwegen Bank Sanctuary. The Concierge at the Platinum Pebble Boutique Inn has tickets waiting for you at the front desk! It is that popular of a tour. Almost every guest that has stayed here has gone out on a whale watch and they have all seen whales. It is astounding.
Once back on dry land, hike across the Breakwater over P'town Harbor to Long Point and Wood End Light. It is a moderate hike as the boulders that form the Breakwater are definitely not even but, the payoff is huge. Catch this area after a big storm and who knows what you might discover.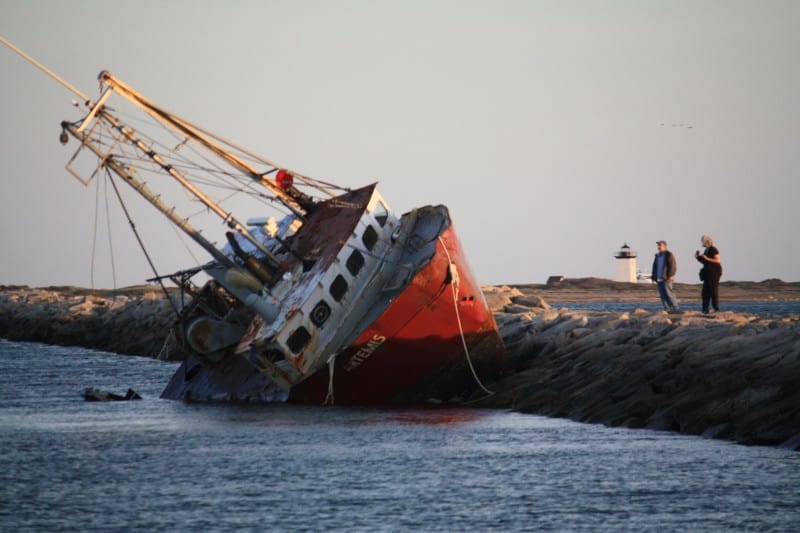 As you come into or out of Provincetown, be sure to make a stop at the Dune Shacks Trail (Google maps will take you there). Seemingly endless rolling sand dunes end at a nearly deserted beach with dune shacks popping up and down the coast. They were built from the wreckage of shipwrecks back in the day and at one time stocked with supplies by the Life Saving Service so that marooned sailors stood a chance against the elements. They make for great photography and there is a lot of history in these dunes.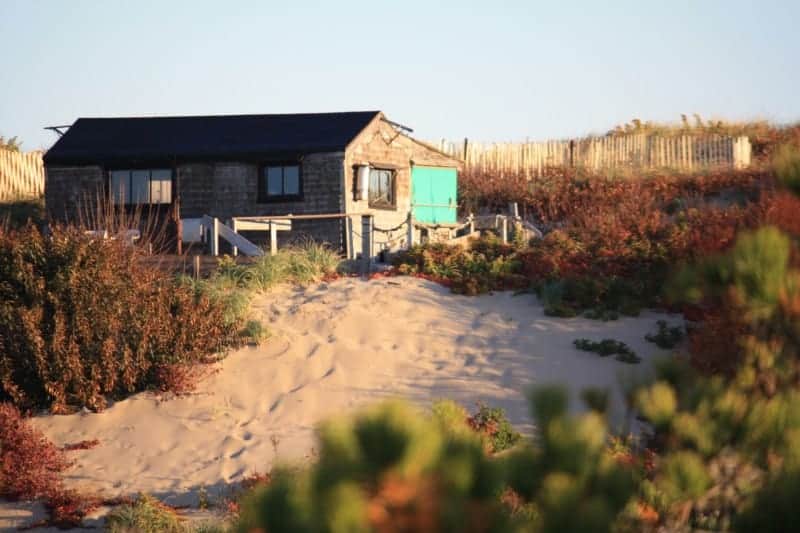 Day 3 Dinner CHoices
If you don't mind a long drive home at night, there are some amazing restaurants in Provincetown for dinner (see above). If you prefer a shorter drive, Rock Harbor Grill in Orleans is about half way to the Platinum Pebble and makes it a much easier drive after dinner. Either way, you will probably be exhausted. But, you know how vacation exhausted is…it feels great and you are coming back to one of the Top 1% of Hotels in the World! Your comfort and your vacation are on us and it will be phenomenal.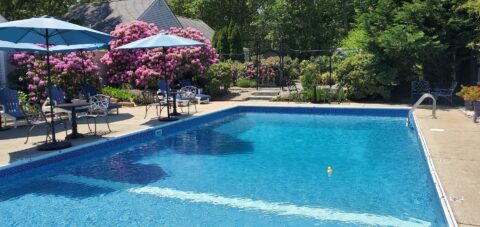 We hope you enjoyed this guide for a 3 Day Cape Cod Getaway and consider staying at the Platinum Pebble Boutique Inn. Be sure to check our Cape Cod Vacation Packages and Specials page for something extra special.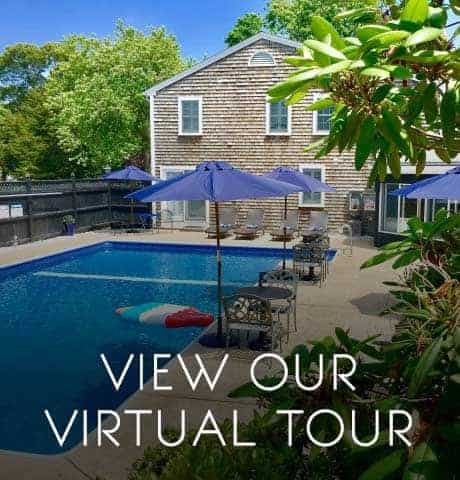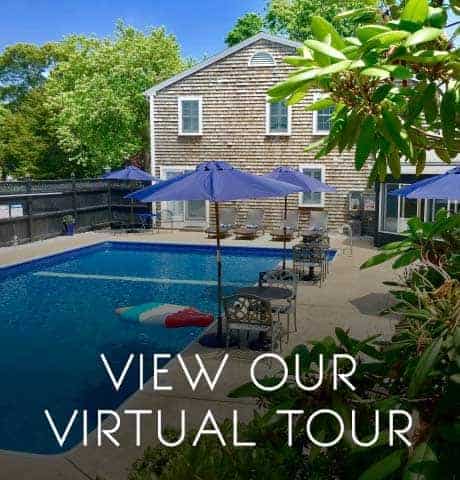 Download your FREE Cape Cod travel guide!