The best breakfast on Cape Cod should be one that starts your day just right! There is so much to enjoy on Cape that you need your energy but…not so much food that you need a nap right after. At the Platinum Pebble Boutique Inn, we strive for the perfect balance. Our chef, Stefanie, cooks with creativity and is excited to bring new dishes to the table. Each day alternates between a Sweet and a Savory and this recipe is a Sweet one!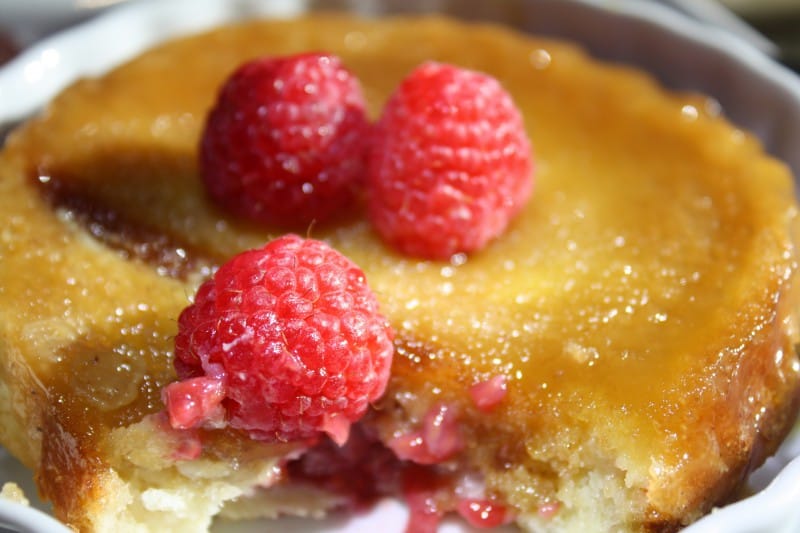 Download your FREE Cape Cod travel guide!
Raspberry Caramel French Toast

1 Cup brown sugar, packed
1/2 Cup (1 stick) butter
2 TB. light corn syrup
1/4 tsp. CINNAMON (optional)
10-12 slices bread, depending on how wide the slices are (you can let them sit out and dry a bit)
1 Cup fresh raspberries
6 eggs
1 1/4 Cups half & half
1 tsp. PURE VANILLA EXTRACT
1/4 tsp. salt
Directions
In a small saucepan, combine the sugar, butter, corn syrup and CINNAMON (if using). Heat over medium and cook just until it thickens, stirring often, about 8 minutes. Be careful to not let the mixture burn. Pour into an ungreased 9×13 baking dish. Place 6 slices of the bread in a single layer on top (we could only fit 5—4 whole slices and one cut in half). Distribute most of the berries (save some for garnish) in the center of each slice of the bread. Top with the remaining bread. In a large bowl, combine the eggs, half & half, VANILLA and salt. Beat well. Pour the mixture evenly over the bread. Cover and refrigerate for at least 8 hours. Overnight is perfect. Bake, uncovered, in a preheated 350° oven for 40-45 minutes until golden brown on top. Garnish with a little extra butter and reserved raspberries.
Prep. time: 20 minutes plus overnight in the fridge
Baking time: 40-45 minutes
Serves: 8
If you enjoyed the recipe, we would love to hear about it. Every cook has a different style, what is your twist on the best breakfast on Cape Cod?
When you think of where to stay on Cape Cod, think of the Platinum Pebble Boutique Inn…for culinary treats that will bring you back for more!
Download your FREE Cape Cod travel guide!