Voted America's #2 Happiest Seaside Town:
Harwich | The best place to stay on Cape Cod!
The best place to stay on Cape Cod means different things to different travelers. Why are you traveling and what do you enjoy on holiday? For us, the best place to stay is where we have the best access to explore our new surroundings. We live like a local in our travels and soak up as much as we can as we discover the best of where we happen to be. Harwich drew us like a bonfire with its central Cape location, direct access to the beach and bike trails, farm to table restaurants, almost everything is walkable, and Provincetown is the same distance as Falmouth so we can easily explore the entire Cape. Now our goal is to bring it to our Guests via customized itineraries so your vacation is everything it should be.

Download your FREE Cape Cod travel guide!
Harwich | Central Location on Cape Cod
Two of our favorite places to visit on the Cape are Provincetown and Falmouth but, the distance between the two is a couple hours…more in High Season. When we first came to Cape Cod we chose Harwich because it opens up both sides of the Cape without too much wasted travel time in between. For us, the decision was easy because we like to see it all! As an unintended consequence we found that Harwich is also about the same distance to Martha's Vineyard and Nantucket with drive and ferry time considered. For travelers searching for the best place to stay on Cape Cod, it's about making this a vacation of your dreams…what is important to you is what defines where you should be.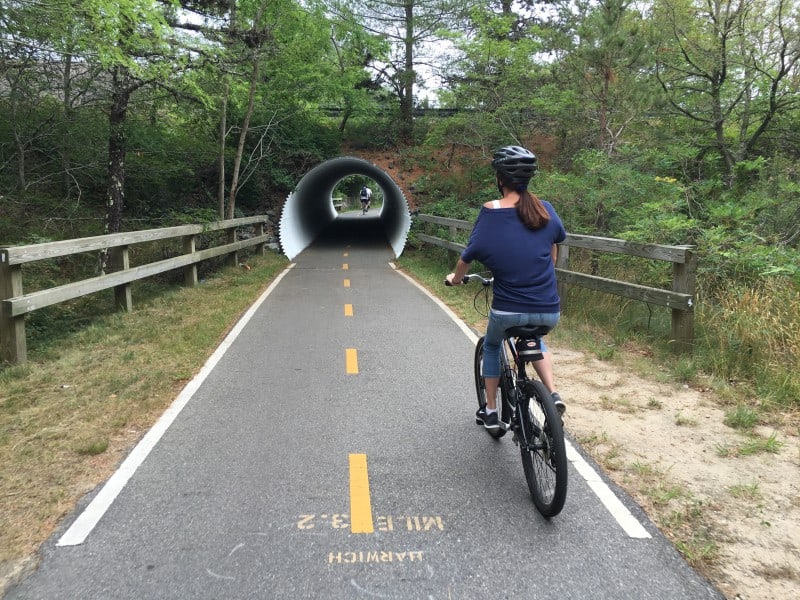 Harwich | The Bike Trail is Close, the Beaches Closer!
Cape Cod is about slowing it down and enjoying life to the fullest. The best way to do that is to walk or bike wherever you can and Harwich is a walkable town. We love jumping on a bike and riding to the beach, to town for a meal, or to the Rail Trail to explore the Cape. No matter which way you are going you can get there in under 15 minutes from the Platinum Pebble Boutique Inn, Harwich's best Luxury Inn.
Downtown Dennisport: 3 minute bike ride/ 10 minute walk
Restaurants: 3-20 minute walk from the Inn (6 different Eateries)
Downtown Harwich Port: 15-20 minute bike ride
Beach: 5 minute bike ride/ 15 minute walk
Rail Trail (bike trail): 15 minute bike ride
Bell's Neck Nature Area: 6 minute bike ride/ 15-20 minute walk
To decide on the best place to stay on Cape Cod, access and walkability were high on our list. Harwich has it all and we have discovered that having very little time to spend enjoying the best place on Earth (as Innkeepers) we are glad to have easy access to nearly everything when we do get a breather.


The best Place to Stay On Cape Cod | Harwich, to discover & Explore
When we were looking for the best place to stay on Cape Cod the first trip here we, of course, used Trip Advisor. Now, as Innkeepers, we love when Guests share their experience with other travelers! The circle comes around. Below are some of our favorite reviews that mentioned the location of the Platinum Pebble Boutique Inn.