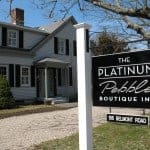 As September's end approaches and we bid adieu to Cape Cod's peak season, it seems not out of place to reflect briefly on the inaugural year for The Platinum Pebble Boutique Inn. The summer has flashed by with Usain Bolt-like speed in a blur of wonderful guests who have come from all points of the globe to try out our Cape Cod Inn. A few statistics for the right-brain challenged amongst us – we enjoyed 80% occupancy from mid-June to mid-September (so if planning your vacation for next year – please book early to avoid disappointment!); the furthest travelling guest came from Melbourne, Australia and had the pleasure of bumping into tempestuous Hurricane Irene, and the closest guest came from right here in West Harwich. Something about us appealed to international travellers with guests coming from Italy, Ireland, Switzerland, France, Germany, Denmark, Sweden, Korea, Canada, England, Scotland, China, Poland, The Netherlands, Belgium, Ruritania (OK I made that country up), Israel and Greece as well as from all over the US. We're still frankly amazed that people from so many disparate places managed to ever find us and then spent their vacation time with us. A very trusting bunch!
We've had a whale of a time and I think all our guests have as well. I've certainly set a personal record for hugs given and received in one year! Quite a nerve racking experience for an Englishman!
It's been a real pleasure to meet and provide accommodation on Cape Cod for so many lovely people.
But it seems only last week that I was frantically sending out a Code Red alert to Annabelle when one of our first guests turned up at our Cape Cod Bed and Breakfast without warning. As it turned out they were a charming couple from New Jersey, who politely pretended not to notice the overflowing dumpster that still stood ominously in the centre of the inn parking lot (the extensive renovation work we undertook had just been completed). I checked them into their room successfully and sent them off for dinner. When Annabelle arrived and did turn-down for them she came promptly back downstairs to inform me that on pulling back the duvet she was confronted by a certain absence of bed sheets! Details, details….
No great horror stories to share but I have been taken aback a couple of times (some say I should be permanently taken aback and preferably to England); once on entering our laundry at 7am to find a guest ironing his pajamas, fortunately he wasn't wearing them at the time; or by the guest who was surprised that our "no kids" policy applied to his newly born baby (interesting – I wonder at what age he thought junior would mutate from alien baby to human child?).
Gob smacked is how I feel about the support and kindness of other Cape Cod Inns who have gone above and beyond to make Annabelle and I feel welcome in the inn community and to ensure that we were successful in getting bookings. I'd like to especially say thanks to Val & Jim at The Carriage House (Chatham), to Kris & John at The Liberty Hill (Yarmouthport), to Flora & Dick at The Commodore (Harwich), to Brian & Nick at The Chatham Gables (Chatham), to Pamela at Little Inn on Pleasant Bay (Orleans) and Rich & Karen at Old Manse (Brewster). Great support, motivation, words of wisdom and referrals. Thank-you all! If ever there was a category for Best Inn on Cape Cod it would undoubtedly be one of these inns that should walk away with the title. Although truth be told a Best Cape Cod Inn doesn't really make sense as all inns strive for a certain uniqueness and niche. Inns approach décor and service differently, enjoy diverse types of locations, provide varying styles of breakfast, have different amenities and cater to completely disparate demographics. We have taken a very novel route compared to other inns and strive to maintain that The Platinum Pebble is the Best Cape Cod Boutique Inn. Not the greatest of stretches to be fair as our guests tell us that we are the only real boutique inn on Cape Cod. That's our niche and we strive to give our guests an experience that combines contemporary interior design that is unique for Cape Cod with a level of service and attention to detail that is unsurpassed. Onward and upward and here's looking forward to decent business through the off-season and another sunny summer in 2012.
Safe travels,
Simon