The blue skies above the waters and beaches of Cape Cod near to our Cape Cod Inn, The Platinum Pebble Boutique Inn, are filled with a rich variety of local and migratory birds that shift with the seasons to include ospreys, herons, oyster-catchers, orioles, cormorants, sandpipers, coots, plovers, chickadees, hawks and more. But come summer two recent, and by comparison rather large, newcomers take to the skies – the lesser spotted "parasailer" and the more regularly spotted "kite surfer"!
The graceful parasailers can be seen in groups gliding above the dunes of the national seashore, alternating from long swooping dives to hawk-like hovering as they dip and rise from behind the sand dunes. Their adrenalin fuelled cousins are the kite surfers who soar and dive at high speed above the waves of Nantucket Sound or the Atlantic facing National Seashore. These summer visitors are so bird-like that in some areas of the outer Cape there are Spring restrictions, as the airborne humans can be mistaken for predatory birds by nesting endangered piping plovers along the beach.
In my short time on Cape Cod I seem to have been inadvertently bumping into avid kite surfers at every turn. Firstly there was Tony who would travel up from New Jersey to spend weekends riding above the waves on Chapin's Memorial Beach, where the Cape Bay waters can be as calm as the Caribbean. Then I discovered that my local bar-keeper, Mike, at Land-Ho! in Harwich was a star of many Youtube kite surfing videos (some flattering and some not so much!) displaying his skills off Nauset Beach and Corporation Beach. Then most recently I met Jay Horn, who turns out to be one of the leading exponents of the art-form on Cape Cod. Jay runs Air Support near West Dennis beach. Air Support were the first company to introduce kite surfing to Cape Cod over 10 years ago and now provide the premier kite surfing clinics in the area. Check out their Warrior Weekend Clinics that are put on every weekend (weather permitting) and have garnered a deserved reputation as the premier schooling for kite surfing.
So with all these run-ins with fanatical kite surfers, I thought I should do some research so that I could at least appear somewhat informed and intelligent if asked by any of the guests at The Platinum Pebble.
So as it happens, Cape Cod is a mecca for kite surfing for the East coast of the US. The summer south westerly trade winds that blow along the Nantucket Sound create ideal conditions for West Dennis, Harwich and South Chatham. But the geography of Cape Cod means that in whatever the prevailing wind direction some area on the Cape is getting great kite surfing. The bay side off Corporation Beach or Memorial Beach tends to provide calmer conditions whilst the Atlantic shore off Nauset Beach is where you're likely to see the more extreme (some would say crazy) exponents of this sport (did I mention Mike?).
The most typically heard description is that kite surfing is akin to snowboarding on water with a giant kite acting as the power source. The kite rope is hooked to a harness freeing up the arms to steer the kite whilst your feet are strapped onto a short surfboard. The challenge is that your body is the only connection between the kite and the surfboard and you have to use hands and feet to control both.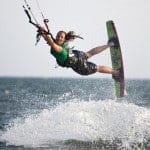 Once mastered you will be launching jumps of 10-30 ft above the waves and getting a perspective on the Cape that only our more traditional birds have previously had, but remember to leave those little piping plovers in peace!
Maybe it's also not surprising that a leading photographer (Luke Simpson) of surfing and kite surfing is a resident of Eastham on Cape Cod and I recommend that you check-out his website for some impressive action photos.
So if kite-surfing takes your fancy then head to a Cape Cod Inn for the weekend for a stay at The Platinum Pebble and we'll help you organize some extreme sport adventure!
Safe travels
Simon