Given the excitement this past week surrounding the Royal Wedding it was fitting that mid-way through a walk at Bell's Neck conservation area today I stumbled across a pair of swans sunning themselves on the river bank with their brood of newly borns. How is this connected to the Royal Wedding? – Well in the UK, these stunningly graceful birds, when on open water, are considered property of the Crow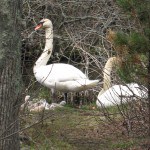 n. I'm not sure as to how the Royals put this archaic perk to good use as I would venture that's it's doubtful that Queen Elizabeth ever sits down to tuck-in to Roast swan or a swan vindaloo.
The swans at Bell's Neck live on the West Reservoir and the newly arrived cygnets are probably only a week or so old, as May tends to be the earliest that new borns arrive and is a typical signal that Spring has well and truly sprung and that Summer will soon be with us on Cape Cod. It's it hard to judge the age of the pen (Mrs Swan) and the cobb (Mr Swan), but it's reassuring to know that these birds embrace old-fashioned principles and will stay as an exclusive breeding pair for life. We'll see if Will and Kate do better at emulating the swans' example than the generation of Royals that precedes them!
In the aftern
oon I stopped by at Stoney Brook, about 5 miles from The Platinum Pebble, to catch the herring run. Every Cape Cod Spring the herring (or alewives) head back from their salt water habitat to swim up the river to the fresh water area where they were born in order to spawn. It seems that the date is one clearly marked in the calendars of the local gulls. They flock to the river forcing the herring to run a gauntlet of gulls who try to fish the herring out of the water. The herring run can be seen at Stoney Brook or at Bell's Neck in Harwich.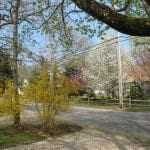 There's a definite change in the air around our Cape Cod Inn; the weather has warmed up, the blossoms are out and the trees are coming into leaf. This is a wonderful time of year to visit a Cape Cod Bed and Breakfast to enjoy the vibrant Spring colors, the explosion of life and our expansive beaches before the summer arrival of tourist season.
If you do decide to head to the Cape this Spring The Platinum Pebble Boutique Inn is ideally located to be your base from where to explore the natural beauty of the Cape.
Safe travels,
Simon