A search of t'internet quickly reconfirms that Cape Cod is firmly in the top 10 for world locations for whale sight-seeing. I'd love to say that you can view these mesmerizing mammals from the window of your room at The Platinum Pebble Boutique Inn but as we're over ½ mile from the beach that would require a rather disconcerting rise in sea-level! But a short-trip up route 6 to P-Town and you can be off out with The Dolphin Fleet spying all shapes of whale, well OK they only actually come in one shape – Large!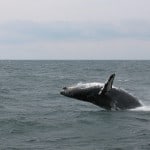 Cape Cod provides the chance to see finback whales (while we're on top 10 lists this is number 2 on the "sizeometer" after the blue whale), humpback whales (number 1 on the whale singing charts), minke whales and the very rare northern right whales.
For your delectation here are some recent articles that sing the praises of Cape Cod as a must go-to vacation spot if you're in the mind to whale-watch.
The Houston Chronicle ran a report in April
http://www.chron.com/disp/story.mpl/travel/top10/7510143.html
which is taken from the influential Shermans Travel article that placed Cape Cod as number 2 in the world! We just need to come up with a cunning plan to divert whales from those pesky Azores and we'll be number 1! (or am I just being Azore loser – boom, boom as Basil Brush used to say)
http://www.shermanstravel.com/top_tens/Whale-Watching_Destinations/
Gadling (an excellent travel blog) ran a great Blog/Article in 2009 that placed us in top 5 for US
http://www.gadling.com/2009/08/19/top-five-whale-watching-destinations-in-america/
Top Adventure tours put us at number 6 globally
http://www.top-adventure-tours.com/whale-watching.html
The internationally renown magazine Travel and Leisure put Cape Cod at number 2 in the US
http://www.travelandleisure.com/articles/north-americas-best-whale-watching-spots/2
Aquaviews, a leading global scuba diving magazine, put us at number 3 globally with Hermanus (South Africa) and Kaikoura (New Zealand) as number 1 and 2 respectively. So for the Northern hemisphere we're number 1!!
http://aquaviews.net/explore-the-blue/top-places-in-the-world-to-have-a-whale-of-a-time/
So there you have it and I'm sure you're already convinced and half way through packing your suitcase. So if you need somewhere to park that suitcase on Cape Cod while you're off on your whale-trip give us a call at The Platinum Pebble a truly uniquely designed Cape Cod Inn.
Safe travels,
Simon