With the sun resisting any temptation to take a rest this summer I decided to enjoy its warmth and treat myself to an afternoon meander from our Cape Cod Inn, The Platinum Pebble, down route 28 toward the beautiful harbor village of Harwichport.
Not 100 yards from the inn on the corner of our street a vintage Amish buggy stands guard outside the treasure-filled antique shop "Back in Tyme", where Barb & Rich offer some of the best value and most varied antiques from around Cape Cod and Massachusetts. When locals tell you that behind its doors you'll find the biggest shark in Harwich they're not referring to Rich but to the beautiful hammerhead that adorns one of the walls (at least that's what I've always assumed!) And while "Back in Tyme" can easily satisfy your materialistic appetite, directly across the road the oldest Baptist church on Cape Cod gleams bright white in the sun standing ready to take care of your spiritual needs as it has done for over 300 years as well as serving as the last resting place for many of Cape Cod's pioneering and influential Chase family. Its beautiful stained glass windows and unique sloping floor make it an important historical site on Cape Cod. If your wants are neither materialistic nor spiritual but harbor a more indulgent theme you can step next door to the Oasis Spa and receive a relaxing massage to rid your body of any niggling tensions.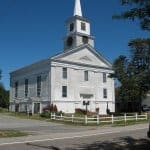 A further 0.5 mile along the road brings you to the bridge across Herring River which, as its name suggests, is one of the primary rivers for the annual herring run when the herring return upstream from the sea in order to spawn. The river is a leading kayaking location on Cape Cod and there is a boat slip by the bridge where you can push off with your kayak to set off up-steam to explore the river, marshes and ponds. The bird watching is impressive.
Next stop for me was to drop off a parcel for a guest with Al the Postmaster at West Harwich post office. This tiny post office has been in operation since 1827 (you really should pop inside to view the beautiful old private post boxes in the foyer) when the first Postmaster, a certain Mr. Chase (there's that name again), was selling the stamps.
Carrying parcels is thirsty work so it seemed only right to give myself a break from all this meandering and pull up a chair at the bar in Land Ho! (the new version of a classic Orleans bar run by Dillon Murphy),which is located just before route 28 enters Harwichport proper. Land Ho! is a great place for a relaxing beverage and has the best bar staff on Cape Cod, capable of conjuring up any kind of cocktail that you can dream up. If you sit at the bar and casually look round you may notice the sign from The Platinum Pebble Boutique Inn that hangs over our regular seats. It seems rude to leave it there alone so I decide to bid the sun adieu for the rest of the day and while away the afternoon in the company of Mike the barman at Land Ho! I'll make it to Harwichport another day.
If you fancy a trip to Cape Cod give a thought to our Cape Cod Bed and Breakfast, The Platinum Pebble.
Safe travels,
Simon