5 Best dog-friendly hiking trails in Cape Cod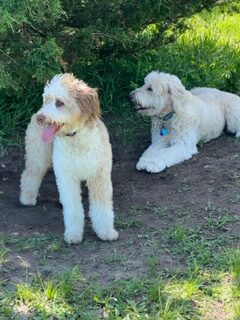 It's ruff to leave your best friend behind! That's why we, Jag- a handsome 11-year old GoldenDoodle, and my new sister Winnie- have taken it upon ourselves to sniff out all the best dog-friendly spots in Cape Cod. Today, we will cover the five best dog friendly hiking trails in Cape Cod—specifically, here in my home of Harwich.
For those who don't know, my humans, Sharon & Shawn, are the owners of The Platinum Pebble Boutique Inn in Harwich, MA. Now that they have two dog-friendly rooms, I'm introducing The Platinum Puppy: a blog for dogs. Dogs who stay in The Platinum Pebble can read this and find all the great places to take their humans. To book one of our dog-friendly rooms, you must call to make a reservation, since there are breed restrictions and such.
Throw me a bone—if you'd like updates on The Platinum Puppy, or if you're a fan of these dog friendly hiking trails in Cape Cod, just submit something called an "e-mail" and my humans will send all the best right to your inbox.
Download your FREE Cape Cod travel guide!
Note: Please always clean up after your furry friends! Humans, when you visit anywhere with cute animals like me, please comply with local and state leash laws and clean up after any droppings. Together, we can keep these areas beautiful for all of us.
---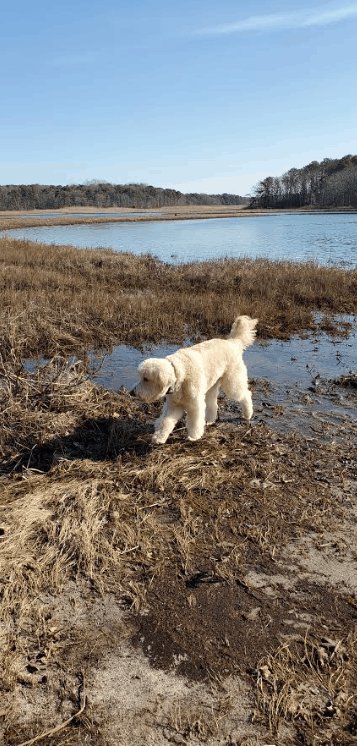 5. Indian Lands Conservation Area
Acres: 25
Total Trail Length: 1.3 Miles
First, let's talk about one of many conservation areas in scenic Cape Cod. The main hiking & walking trail in Indian Lands Conservation Area is good for all skill levels. Visit the area where the Nobscusset peoples passed in Winter months, staying warm in their domed wigwams. The springs offered them fresh water as well as plenty of fish and shellfish to eat. They continued to reside here as late as 1778.
If you love nature like me, this is a great area to visit. You can see the Lady's Slipper Orchid bloom in Spring. I'm colorblind, but my humans said they're beautiful pink flowers that bring shades of color to the trail. It's a smooth and easy walk, and those who want more can loop around Trail 1 and Trail 2. As always, be respectful of others and any private property you find.
---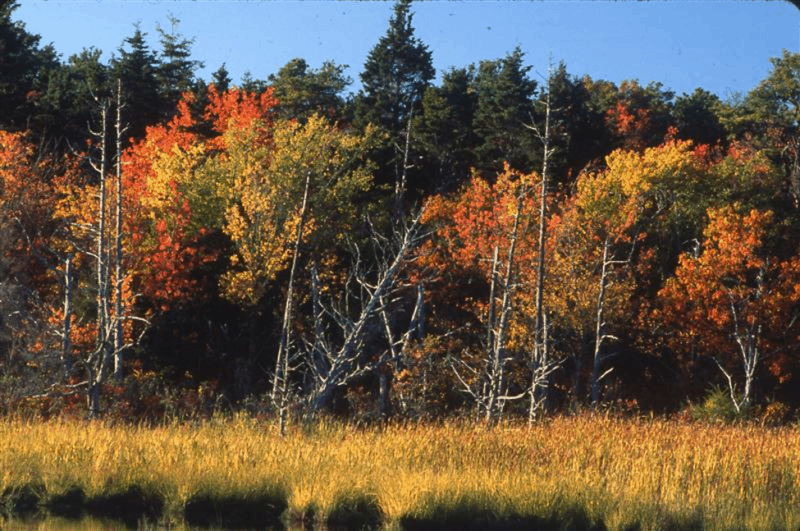 (Photo courtesy of the Harwich Conservation Trust)
4. Bell's Neck Conservation Lands
Acres: 259
Total Trail Length: 2.75 Miles
Next, the Bell's Neck Conservation Lands! As an intellectual dog, there's nothing better than knowing the history behind a trail. The Bell's Neck Conservation Lands go back to 1668, when a settler named John Bell acquired most of the land from the Saquatucket Native Americans. Since then, it passed from owner to owner for 300 years until the town of Harwich purchased it to protect the rivers and woodlands.
This is a great, steady trail for dogs and humans alike to walk together, and the trail we walk the most since it's a bone throw from the inn. The land encompasses the Herring River, which leads into the West Reservoir. You can get a good view of the water and the salt marsh as you walk. I'm more of a fellow-dog spotter (I love seeing new friends!), but for you birdwatchers you there, keep an eye out for ospreys and the black-crowned night heron in Spring and Summer.
---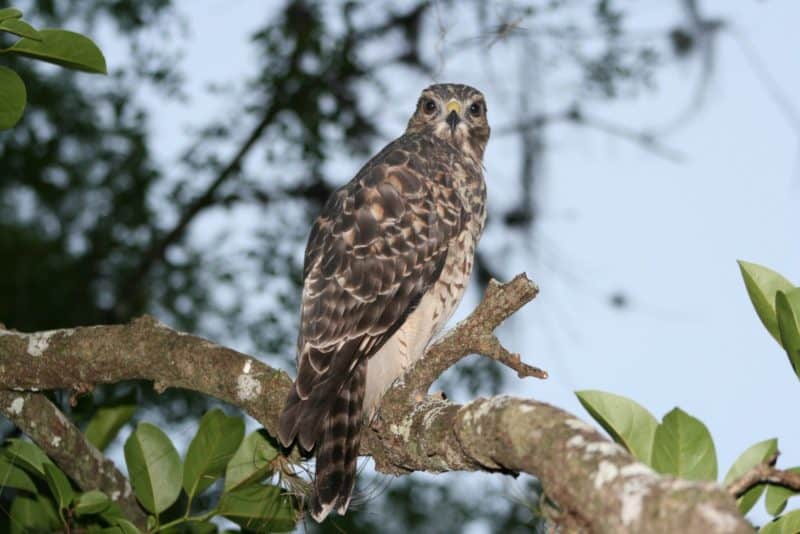 3. Hawksnest State Park
Acres: 236
Total Trail Length: 2.5 Miles
Hawksnest State Park is another hidden gem (or as we dogs say, hidden bone) in Harwich. Since dogs are allowed with leashes, I was able to explore it recently with my humans!
The trail itself has mostly dirt roads that loop around its three ponds. There are many different habitats in this park: turtles, a great blue heron, ducks, and others. The water is crystal clear, and you can even lie down and relax in the sand. Depending on the time of year, there are even vernal pools. It's a great place for animals.
Did you know that the freshwater pond in the middle of the park has the best water quality of the 23 freshwater swimming spots in Harwich? I tried a lick of it to test it out, and I can affirm it's true!
---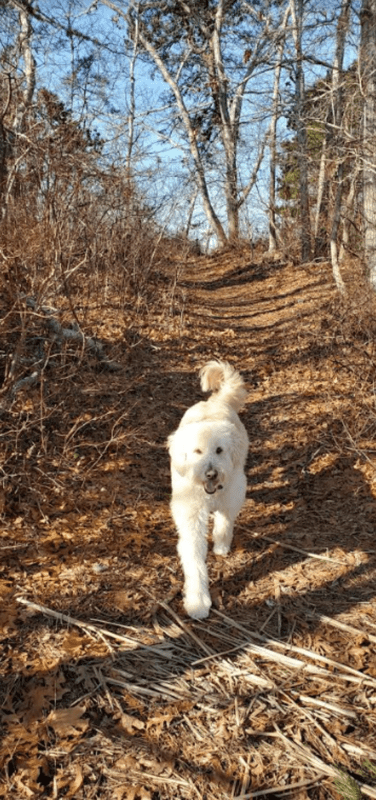 2. Thompson's Field Conservation Area
Acres: 57
Total Trail Length: 2.75 miles
Here's another great trail with a history! Thompson's Field Conservation Area was purchased by Harwich to protect groundwater. Here's even better news: dogs are allowed off-leash here! We can run free!
There's one catch: due to the sensitive drinking water supply, you MUST clean up after your dogs. Don't ruin it for everyone! You should always pick up after your pups anyway, but it's crucial to do so here.
With that out of the way, let's talk about the trails. The looping trails take you through idyllic woods and meadows, making it a great and scenic walk. Most of the area had once been cleared for something called agriculture. I guess not all humans are fierce hunters like myself! As soon as I find the native habitat of stuffed squirrels, they're done for.
---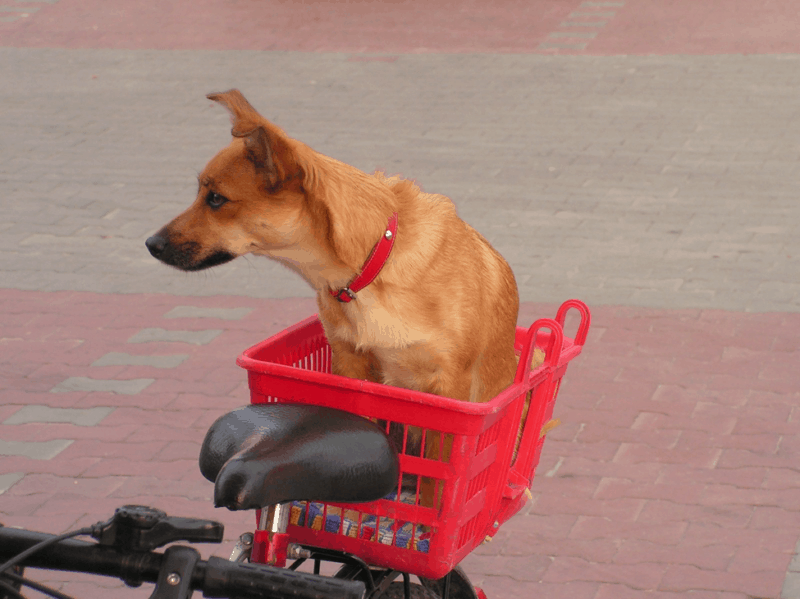 1. Cape Cod Rail Trail
Acres: More than you can shake a stick at
Total Trail Length: 22 Miles
The Cape Cod Rail Trail used to be a train line that was converted into a trail! You can walk, run, or bike down the trail, but more importantly, you can bring dogs on leash. The long trail will take you through several Cape Cod towns and parks.
Did you know that Cape Cod was an isolated area before the railroad tracks were laid? The train line used to carry passengers from the early 1800s until about 1960. As Cape Cod's popularity as a Summer resort grew, people used to come all the way from New York and Connecticut by train. When you're riding along the trail, you can still find relics of the railroad days, like old station-houses.
On a beautiful Cape Cod day, why not visit this trail and take a unique and scenic tour through Cape Cod with your best friend? It's one of the best and healthiest ways for you and your dog to see Cape Cod. The smoothly paved trail makes it perfect to bike or skate. My humans, Sharon & Shawn, conveniently offer bicycle rentals ("The Platinum Pedals") for this purpose! Sadly, you'll have to bring your own dog, because I am not for rent.
---
Thank you!
Thank you for reading the first article in The Platinum Puppy series: the 5 best dog friendly trails in Cape Cod. If you want to meet us in person, or if you're looking for a great place to stay while touring these hiking trails in Harwich, call the Platinum Pebble Boutique Inn to schedule your stay! (Dog-friendly rooms cannot be booked online, dog owners must review and agree to our pet policy prior to booking. Please call for details.)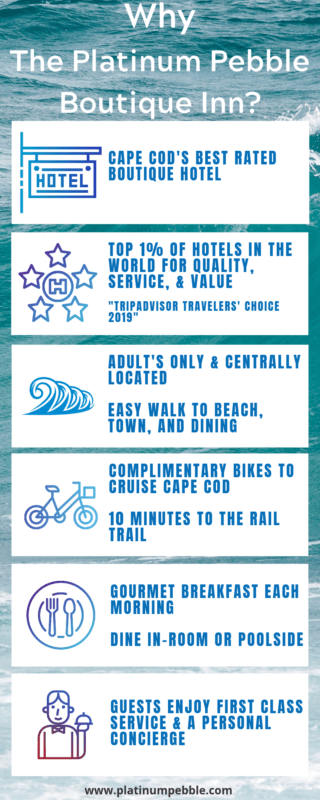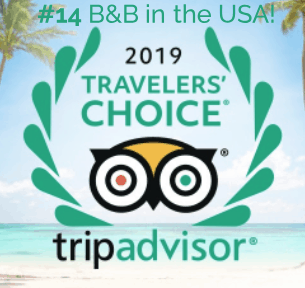 ABOUT: The authors are the dogs who live at The Platinum Pebble Boutique Inn located in Harwich, Cape Cod. The Platinum Pebble Boutique Inn is Cape Cod's best boutique hotel and experience for travelers interested in living like a local. If you are interested in touring the Inn and planning your next Cape Cod vacation, click 'CHECK AVAILABILITY' below to check out The Platinum Pebble Boutique Inn.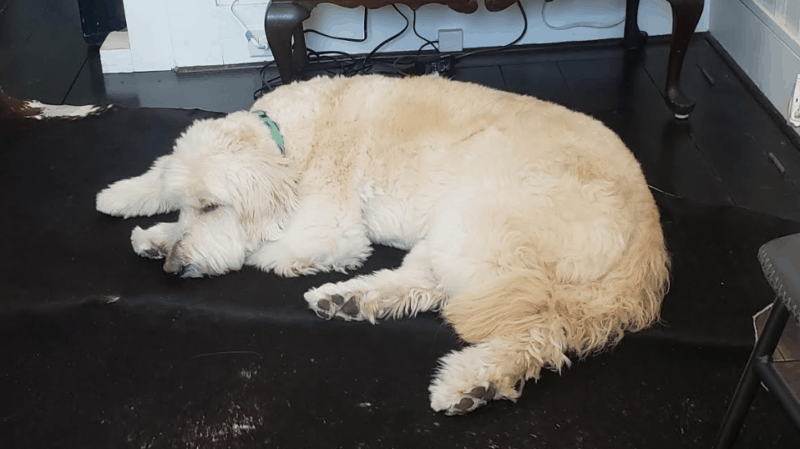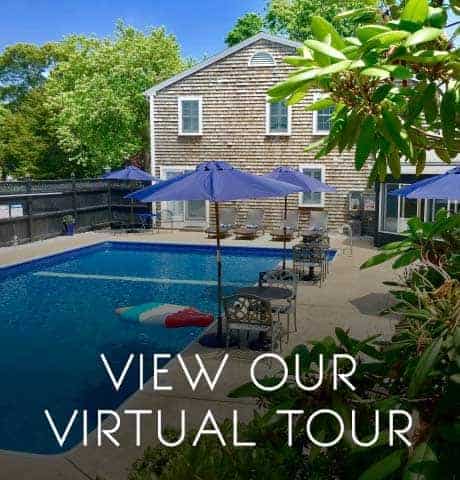 If this article helped you find your next favorite hiking trail in Cape Cod, please share with friends!
If you enjoyed this article, you might also enjoy some of these related guides:
For regular updates of the Local's Guide, please subscribe here and for Exclusive Newsletter offers and discounts please register here.