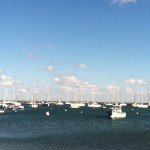 The day started, as all days should, with big Bertha (lovely lass) firmly in my grip and an empty fairway spreading out before me. I was playing a round (purely a fling, nothing serious) with my good Scottish friend Angus McCoteup. Angus had already driven off but he'd kindly left the fairway empty for me.
"Smack" – big Bertha swept an arc through the morning air and propelled my white ball out into the misty veil that hung over Cape Cod Country Club in Falmouth. There followed four hours of pure joy as we wound our way around the eighteen holes of one of Cape Cod's prettiest golf courses. Cape Cod is blessed with over 30 golf courses! But the Cape Cod Country Club is one of my favorites alongside Cranberry Valley GC in Harwich and Dennis Pines GC in Dennis (I'm very fickle!).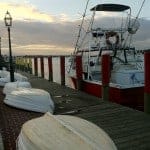 Once the golf was finished Angus and I were heading down to Wood's Hole to meet up with the girls, Annabelle and Angus's wife, Carrie. From there we were stepping aboard the Steamship Authority ferry and heading out for a night on Martha's Vineyard. This was a rare chance to escape from our Cape Cod Inn, The Platinum Pebble, and treat ourselves to a mini-break with friends. The ferry pulled out of Woods Hole harbor passing a Frank Lloyd Wright-esque building that sits on the headland and then steamed out into Nantucket Sound with the local gulls trying their best to keep up. If only they'd bought a ticket they wouldn't be in such a flap!
Once we were safely on dry land in Vineyard Haven we headed out to the old whaling port of Edgartown where we would spend our night at a wonderful local Cape Cod B&B, The Hobknob.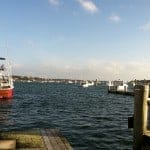 Edgartown has a wonderful harbor front with the Edgartown Lighthouse proudly standing on guard at its entry. As we walked along the harbor front we bumped into a couple of guests who'd stayed at The Platinum Pebble the previous night. We assured them that we weren't stalking them but in fact as part of our unwavering commitment to stellar service we always checked up to make sure our guests were being looked after wherever they went!
You can while away hours meandering through the charming streets of Edgartown checking out the many quaint shops or looking enviously at the gorgeous houses and their gardens. It's hard to believe that this was the film location for the fictional town of Amity in the film "Jaws". There seem to be few horrors that can befall you here – unless you count some of the prices in the quaint shops!
One shop not to be missed is Murdick's Fudge Shop, a very sweet way to end a day of strolling.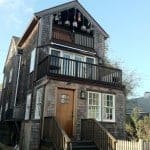 For dinner we checked out Atria and enjoyed some good food and several pints of the local beer from the Offshore Ale Co. brewery.
If you are visiting Cape Cod I thoroughly recommend a trip to Martha's Vineyard and to Edgartown. We took a taxi from Vineyard Haven to Edgartown but there are many modes of transport for seeing the island. In the summer hiring a bike or a moped can be great fun or you can take one of the buses that regularly travel between the towns.
Hopefully we'll see you soon at The Platinum Pebble Boutique Inn!
Safe travels,