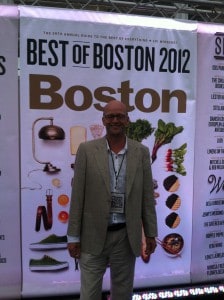 It didn't take us very long after receiving the invitation in the mail to decide to accept. I can count on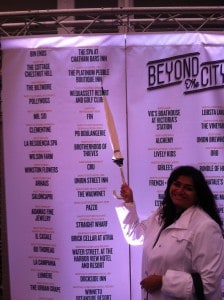 one finger the number of invitations to Boston parties we've received in the last year so we weren't about to throw up the opportunity to mix with the stars and trend-setters of Boston at the infamous annual Boston Magazine "Best of Boston" party. That our invitation was surely down to some computer glitch, bureaucratic fumbling or the Mayan galactic misalignment was of no consequence; an invitation we had and a party we were off to!
As time approached to depart on our journey up to Boston the weather took a sudden turn. Horizontal rain and heavy winds were coming in off the sea. As an Englishman and a devout golfer I was tempted to say to heck with the party and make the most of the weather and nip out for a quick round but no this was even more important than golf, so off we set into the evening and the torrential downpour.
The weather in Boston was slightly better, although I use the term "slightly" very loosely; a brolly was the de rigour accessory for the evening. The party was taking place in an enormous marquee on the harbor front overlooking the brightly lit Boston sky line with in the distance the flood-lights of Fenway Park blazing defiantly despite another under-whelming performance from the Red Sox.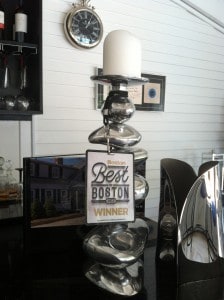 We entered the party at the same time as another couple, who upon registration were handed "Winners" badges. Ah well any misguided belief that perhaps our little Cape Cod Bed and Breakfast was to be lauded had been summarily squashed and washed away with the rain.
We strode up the blue dyed red-carpet (Jet Blue were the main sponsor of the party) and checked out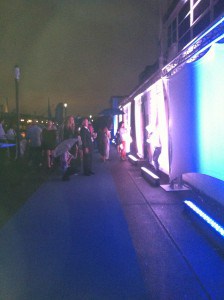 the lists of winners. After long lists of Boston's finest establishments we came to the short section on Cape Cod and that's where we got the shock of our lives – a truly gobsmackingly incredible moment. There up on high between the Chatham Bars Inn ("Best Spa") and the infamous Wequassett Resort ("Best Hotel-Resort") was none other than The Platinum Pebble Boutique Inn, winner for "Best Hotel-Inn on Cape Cod". We shot back to the registration desk to enquire haughtily as to where our "Winners" badges may be. Once correctly attired we span around and strode up the "blue" carpet with beaming smiles cutting through the gloomy weather.
We are still amazed that The Platinum Pebble is the winner of Best Inn on Cape Cod for the "2012 Best of Boston" awards. We thank Boston Magazine for their support of our business and for recognizing our unique, contemporary take on a Cape Cod Bed and Breakfast. We're also proud to be in Harwich, where both we and the night's other big Cape Cod winner, The Wequassett Resort, are happily located.
Safe travels,
Simon