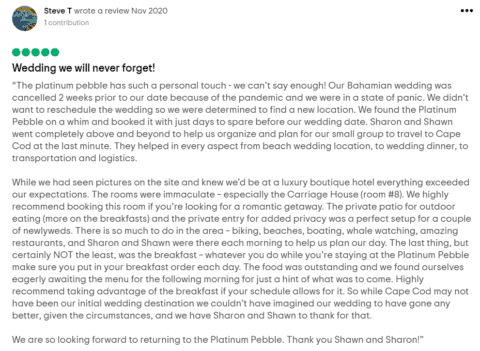 The platinum pebble has such a personal touch – we can't say enough! Our Bahamian wedding was cancelled 2 weeks prior to our date because of the pandemic and we were in a state of panic. We didn't want to reschedule the wedding so we were determined to find a new location. We found the Platinum Pebble on a whim and booked it with just days to spare before our wedding date. Sharon and Shawn went completely above and beyond to help us organize and plan for our small group to travel to Cape Cod at the last minute. They helped in every aspect from beach wedding location, to wedding dinner, to transportation and logistics.

While we had seen pictures on the site and knew we'd be at a luxury boutique hotel everything exceeded our expectations. The rooms were immaculate – especially the Carriage House (room #8). We highly recommend booking this room if you're looking for a romantic getaway. The private patio for outdoor eating (more on the breakfasts) and the private entry for added privacy was a perfect setup for a couple of newlyweds. There is so much to do in the area – biking, beaches, boating, whale watching, amazing restaurants, and Sharon and Shawn were there each morning to help us plan our day. The last thing, but certainly NOT the least, was the breakfast – whatever you do while you're staying at the Platinum Pebble make sure you put in your breakfast order each day. The food was outstanding and we found ourselves eagerly awaiting the menu for the following morning for just a hint of what was to come. Highly recommend taking advantage of the breakfast if your schedule allows for it. So while Cape Cod may not have been our initial wedding destination we couldn't have imagined our wedding to have gone any better, given the circumstances, and we have Sharon and Shawn to thank for that.

We are so looking forward to returning to the Platinum Pebble. Thank you Shawn and Sharon!