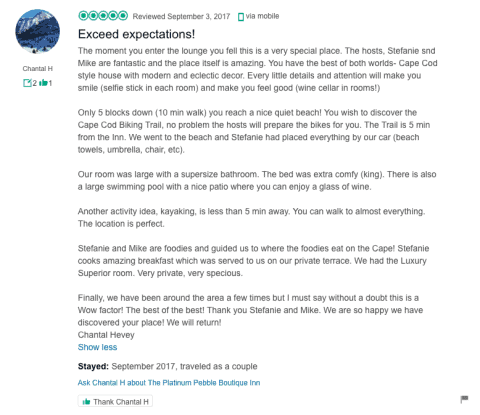 The moment you enter the lounge you fell this is a very special place. The hosts, Stefanie snd Mike are fantastic and the place itself is amazing. You have the best of both worlds- Cape Cod style house with modern and eclectic decor. Every little details and attention will make you smile (selfie stick in each room) and make you feel good (wine cellar in rooms!)
Only 5 blocks down (10 min walk) you reach a nice quiet beach! You wish to discover the Cape Cod Biking Trail, no problem the hosts will prepare the bikes for you. The Trail is 5 min from the Inn. We went to the beach and Stefanie had placed everything by our car (beach towels, umbrella, chair, etc).
Our room was large with a supersize bathroom. The bed was extra comfy (king). There is also a large swimming pool with a nice patio where you can enjoy a glass of wine.
Another activity idea, kayaking, is less than 5 min away. You can walk to almost everything. The location is perfect.
Stefanie and Mike are foodies and guided us to where the foodies eat on the Cape! Stefanie cooks amazing breakfast which was served to us on our private terrace. We had the Luxury Superior room. Very private, very specious.
Finally, we have been around the area a few times but I must say without a doubt this is a Wow factor! The best of the best! Thank you Stefanie and Mike. We are so happy we have discovered your place! We will return!