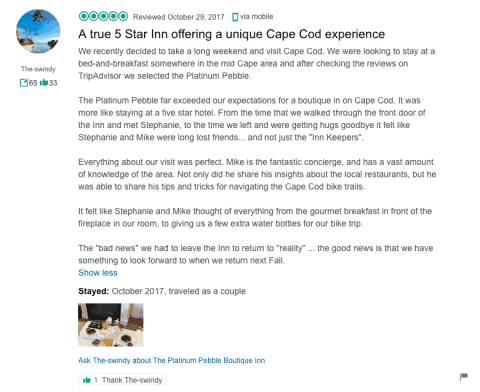 We recently decided to take a long weekend and visit Cape Cod. We were looking to stay at a bed-and-breakfast somewhere in the mid Cape area and after checking the reviews on TripAdvisor we selected the Platinum Pebble.
The Platinum Pebble far exceeded our expectations for a boutique in on Cape Cod. It was more like staying at a five star hotel. From the time that we walked through the front door of the Inn and met Stephanie, to the time we left and were getting hugs goodbye it felt like Stephanie and Mike were long lost friends… and not just the "Inn Keepers".
Everything about our visit was perfect. Mike is the fantastic concierge, and has a vast amount of knowledge of the area. Not only did he share his insights about the local restaurants, but he was able to share his tips and tricks for navigating the Cape Cod bike trails.
It felt like Stephanie and Mike thought of everything from the gourmet breakfast in front of the fireplace in our room, to giving us a few extra water bottles for our bike trip.
The "bad news" we had to leave the Inn to return to "reality" … the good news is that we have something to look forward to when we return next Fall.