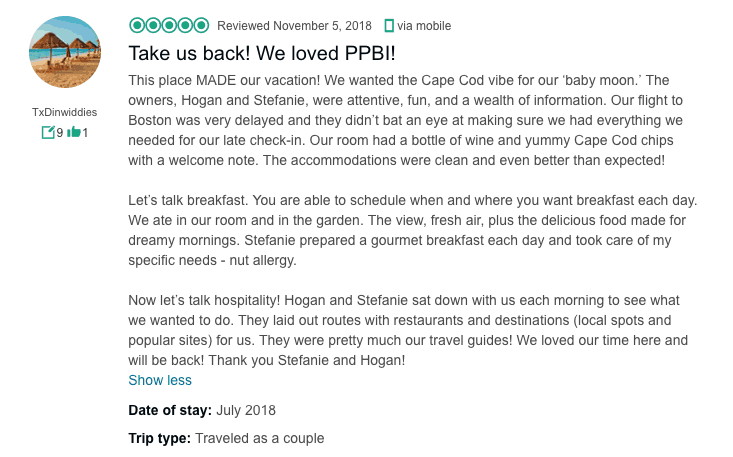 This place MADE our vacation! We wanted the Cape Cod vibe for our 'baby moon'. The owners, Hogan and Stefanie, were attentive, fun, and a wealth of information. Our flight to Boston was very delayed and they didn't bat an eye at making sure we had everything we needed for our late check-in. Our room had a bottle of wine and yummy Cape Cod chips with a welcome note. The accommodations were clean and even better than expected!
Let's talk breakfast. You are able to schedule when and where you want breakfast each day. We ate in our room and in the garden. The view, fresh air, plus the delicious food made for dreamy mornings. Stefanie prepared a gourmet breakfast each day and took care of my specific needs – nut allergy.
Now let's talk hospitality! Hogan and Stefanie sat down with us each morning to see what we wanted to do. They laid out routes with restaurants and destinations (local spots and popular sites) for us. They were pretty much our travel guides! We loved our time here and will be back! Thank you Stefanie and Hogan!