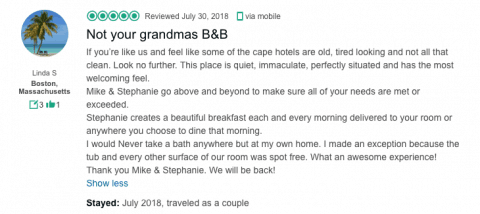 If you're like us and feel like some of the cape hotels are old, tired looking and not all that clean. Look no further. This place is quiet, immaculate, perfectly situated and has the most welcoming feel.
Mike & Stephanie go above and beyond to make sure all of your needs are met or exceeded.
Stephanie creates a beautiful breakfast each and every morning delivered to your room or anywhere you choose to dine that morning.
I would Never take a bath anywhere but at my own home. I made an exception because the tub and every other surface of our room was spot free. What an awesome experience! Thank you Mike & Stephanie. We will be back!