It didn't matter how you looked at it or how you spun it, the fact remained that as long as the old "Lion's Head Inn" sign continued to stand guard on our Cape Cod Inn, we could never declare that "The Platinum Pebble" had truly arrived.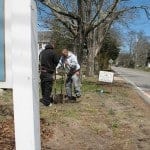 So after a long wait it was an exciting and momentous day last week when finally the hole was excavated and the new, glistening sign hoisted into place and unveiled to the world (well more accurately to a couple of our Harwich neighbors and the local mailman Ted; but somehow that doesn't quite convey the significance of the event – not that Ted wasn't suitably impressed).
Finally the name proudly sticking its chin out into the Cape Cod breeze was The Platinum Pebble!
We sat back and wisely agreed that now we would be overrun by guests who on seeing the elegant sign marking our beautiful Cape Cod lodging would be impelled to alter any prior made plans and come and book-in at our Cape Cod Bed and Breakfast. Ok so that didn't happen, but surely it's only a matter of time me thinks.
Changing the sign is akin to the regeneration process of the Time Lords on the UK TV program Doctor Who. The inn spent its early years as the "Sea Breeze Inn" before transforming into "The Lion's Head Inn" some thirty years ago. Now it's embarking on its next transformation to "The Platinum Pebble'. Like the Time Lords, each transformation heralds a new personality and we believe "The Platinum Pebble" will have a unique personality for Cape Cod.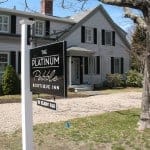 Another step on our journey has been made; the building renovation and inn interiors are complete, the new guest-hypnotizing sign is up, our landscaping is underway, our Facebook page is even up and we've already successfully (we survived, they survived, ergo successful) hosted several guests at our boutique inn on Cape Cod…..and we're having fun!
Safe travels
Simon