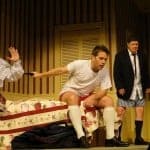 The Summer season at the Cape Playhouse ended with the take-no-prisoners farce "Unnecessary Farce" by Paul Glade Smith. We took a night off from our Cape Cod Inn, The Platinum Pebble, in Harwich to take the short drive over to the theatre to enjoy a wonderful and very energetic performance on a beautiful Cape Cod summer evening.
True to the tradition of farce we were treated to the sight of a parade of trouser-less men and skirt-less women, and the rapid opening and closing of every door on the set as characters sped in and out of rooms and closets at break-neck speed. The synchronicity, energy and agility required to pull off a farce of this pace is not to be under-estimated and all the actors & actresses pulled it off with laudable aplomb. A meaningful or sensible script however is less important with this type of theatre/comedy but delivery of the lines is absolutely crucial. The gem of a part is the doughnut-loving police cadet who was absolutely flawless in her performance at the Cape Playhouse and dissolved the theatre to laughter on repeated occasions.
The crux of the story is a police sting at a motel on the local mayor whereby they have him under surveillance from the adjoining motel room. The story unfolds in to one concerning the local Scottish mafia and the bagpipe playing, kilt adorned "Highland Hitman". The accuracy of this kilted assassin's accent isn't key (key is that he's difficult to understand) but I have to say that he sounded more like a gay Norwegian impersonating a drunken German than any Scotsman I've ever met!
All great fun and a great send-off for this year's Summer theatre. Next year is the 86th year of the Cape Playhouse and we'll be there for sure.
We hope you can be there too and if so that you can check out our Cape Cod Bed and Breakfast at The Platinum Pebble.
Safe travels,
Simon