Elvis Costello's Revolver Tour hit Cape Cod last Wednesday night at the Cape Cod Melody Tent and he went down a storm with locals and vacationers alike as he rocked the place for over 2 hours.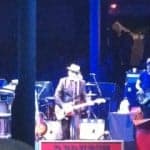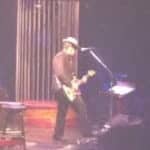 The set list covered the complete sweep of Costello's career from 1977 to the present day. The crowd were on their feet to join in the Attractions' hits of "Watching The Detectives", "Radio, Radio", "I Don't Want to Go to Chelsea" and "Pump It Up" through to "Bedlam", "Peace, Love & Understanding" and "Brilliant Mistake". Interspersed among these hits were a couple of interesting cover songs including a barn-storming version of The Byrds' "So You want to Be a Rock and Roll Star". A great performance and another great night at a wonderful Cape Cod attraction. After the concert we headed back to our Cape Cod Bed and Breakfast, The Platinum Pebble, with Elvis blaring on the radio as we continued our concert into the late night.
Melody Tent has been a summer attraction on Cape Cod for nearly 60 years presenting world-class entertainment in Hyannis. It's a not-for-profit organization dedicated to encouraging and supporting the arts, cultural and educational organizations throughout the communities of the Boston South Shore and Cape Cod. The resident theatre company that was originally performing at Melody Tent is now gone and has been replaced by world class touring performers, that has included Tony Bennett, Linda Ronstadt, Crosby Stills Nash, Carole King, B.B. King, Alison Krauss , Lynyrd Skynyrd, Willie Nelson, Chris Isaak, Blues Traveler, the Doobie Brothers, Robert Cray, the Beach Boys, Ani DiFranco, Aretha Franklin, Little Feat, the Doobie Brothers, George Thorogood and Elvis Costello of course. Every Summer you can enjoy the chance to see of these great performers at Melody Tent on Cape Cod.
Safe travels,
Simon