Meet the Innkeepers at a Boutique Hotel on Cape Cod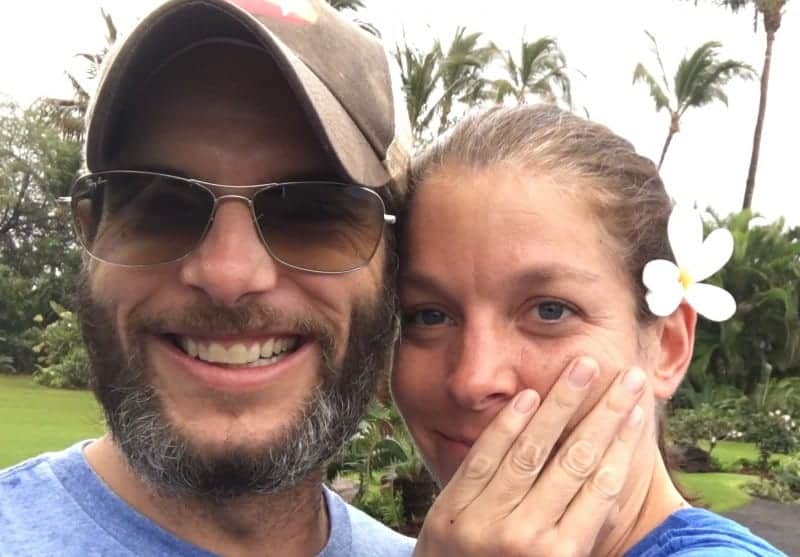 Download your FREE Cape Cod travel guide!
The Innkeepers at the Platinum Pebble Boutique Inn, Mike and Stefanie Hogan, sit with the Local's Guide to talk about their purchase of this boutique hotel on Cape Cod.
What lead to Your decision to purchase a Cape Cod Boutique Hotel?
We had been traveling for years, always in search of the spot that made us feel like we had to live there.  Vacations are funny like that, we would always come back from somewhere great thinking about living  there full time.  How often have you been on vacation looking at  real estate magazines?  While we had traveled to some really great places, none had "the feeling" until we got to Cape Cod.  The mom and pop shops rule here and relaxed is a way of life.  We experienced a big slow down and realized this is where we want to be, permanently.
Once we found the place, we had to find the right property.  Our original plan was to purchase a bed and breakfast and rehab it to our style.  Fortunately, we got lucky and found not only the perfect location but, the property was also recently renovated taking a lot of strain off us.  We were able to enjoy making it better without the stress of a major project.
What has been the biggest influence on your running of the Platinum Pebble?
We feel very fortunate, as hoteliers, to have our start in hospitality with the Four Seasons Hotels and Resorts.  We both worked for the Four Seasons in Texas and were trained in Customer Service from the best.  Everything we do revolves around the same simple philosophy, the customer is first and we are here to make their vacation great.  The rest flows easily from that basic beginning.  We adopted the Four Seasons Hotels standard as our own, to the guest's benefit.  We have the extreme benefit of a boutique hotel with only 8 rooms.  We are able to dedicate our time to the guest experience and have a solid grasp of how our property is running.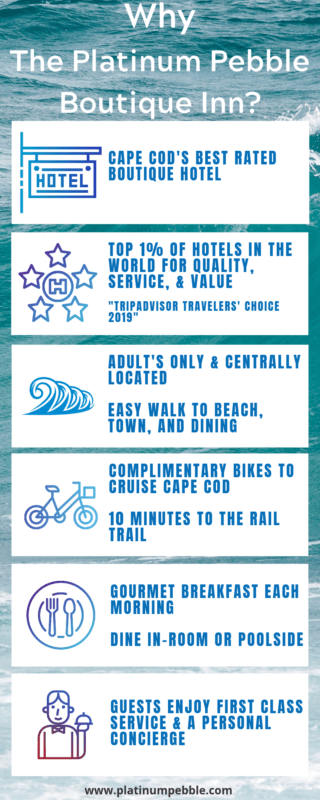 What do you enjoy most as Innkeeper of a Cape COd Boutique Hotel?
We meet great people from around the world and learn more about our world with each new introduction.  We see that about 35-40% of our guests are international travelers and we, of course, love talking to everyone.  We also see about 30% of our guests come from the region and being new to the area, we are also learning constantly about New England.
As we get more experienced in what we do, add the appropriate team members, and free up our time we are able to spend more time with our guests and implement fun things like Vinyl Hour (every Tuesday and Thursday in the Lounge) and firing up the outdoor fire pit in the shoulder season.  The great thing about being an Innkeeper is that as time goes on, it becomes more fun.
What is the most important thing a potential guest should know?
We are here to make their vacation great and ensure they see the best of Cape Cod.  We are explorers at heart and have focused our marketing of the Platinum Pebble around the live like a local experience.  If you are coming to Cape Cod, what do you want to see and do?  We know lighthouses and beaches are high on the list, foodie stops are always important, and the many town's of the Cape and their different Main Streets see a lot of traffic.  That's the easy part.  What about off the beaten path adventures or live like a local experiences?  We have had a great time teaming up with local guides to bring guests once in a lifetime opportunities like Great White Shark spotting, private Whale watching, kayaking, or Stand Up Paddleboarding tours.  We love to guide guests to unique sights like the Oyster farms in the Bay, the Dune Shacks in the Provincelands, or to actually experience crabbing!  If you stay at the Platinum Pebble, we are here to handle the details for you and make it an unforgettable getaway.
Enjoy a video of our first days as Innkeepers, brought to you by Glossed and Found!
If you know someone traveling to Cape Cod or is interested in becoming an Innkeeper, please share this article with them.
If you liked this article, you might also enjoy some of these related articles from the Local's Guide:
For regular updates of the Local's Guide, please subscribe here and for Exclusive Newsletter offers and discounts please register here.
Download your FREE Cape Cod travel guide!